Womft? Vintage Fridays: (B)Oktober Edition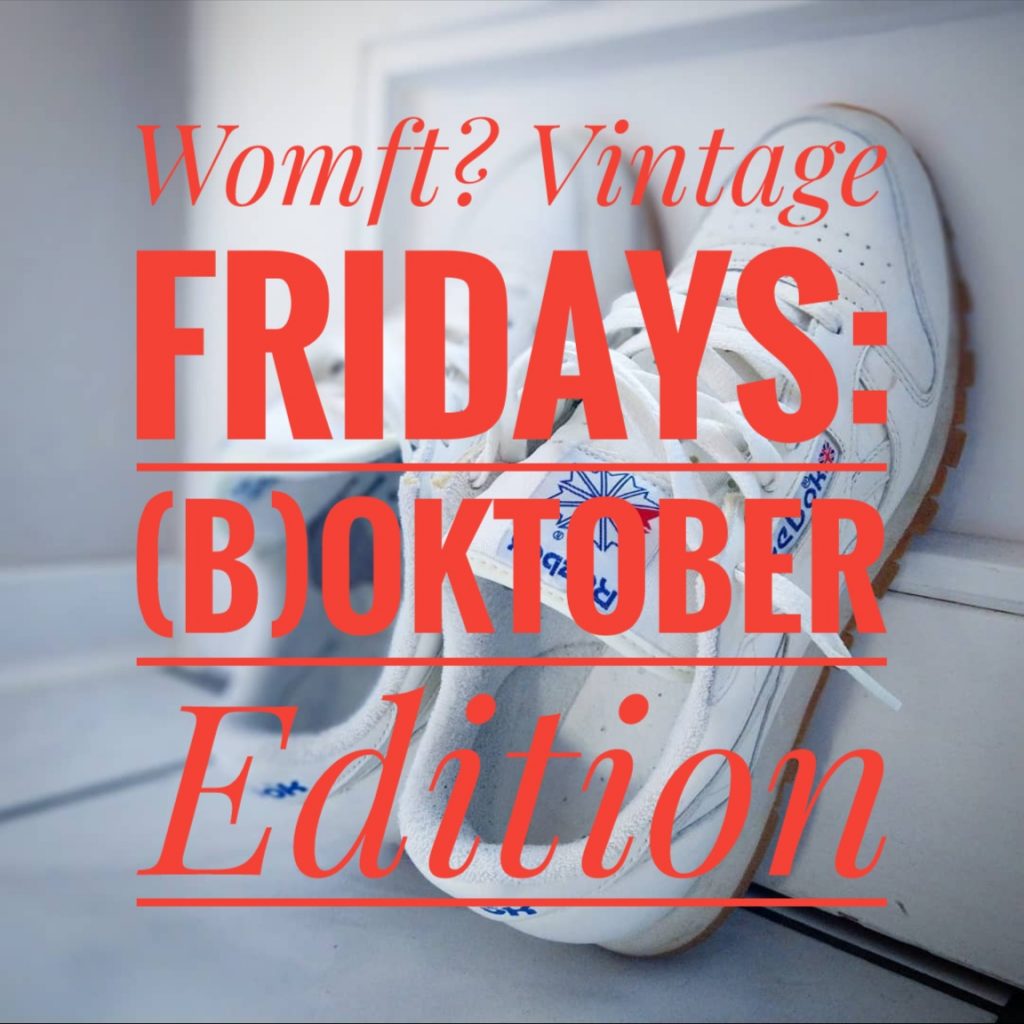 What better time to celebrate Reebok's rich history than (B)Oktober? Although overshadowed nowadays by Adidas, Nike, and more recently everyone's darling New Balance, this British-American brand still has a faithful following, with former NBA superstar Shaquille O'Neal being one of its staunchest and most famous supporters. Join us in this edition of Womft? Vintage Fridays as we take a trip down memory lane and revisit Reebok's history up to the 90s.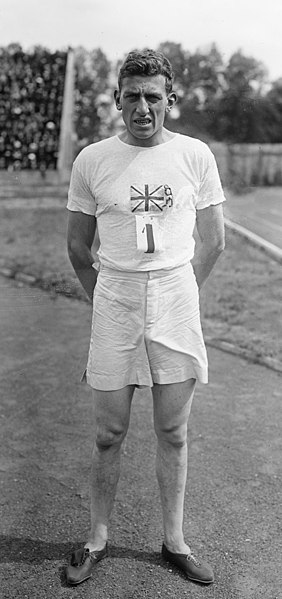 To get one thing out of the way: despite the common lore often describing Reebok as being from Bolton in the north of England, things aren't that simple. Rather, it was Reebok's founder Joe Foster who grew up in Bolton and learned his trade there in his grandfather's company, J.W. Foster & Sons. Founded in 1900, J.W. Foster & Sons was one of Bolton's burgeoning businesses. They not only pioneered innovative running tech such as spikes, but also taught Foster crucial lessons in regard to marketing. For instance, by gifting shoes to local, and later national athletes, the company gained an unrivaled popularity and pioneered influencers early on.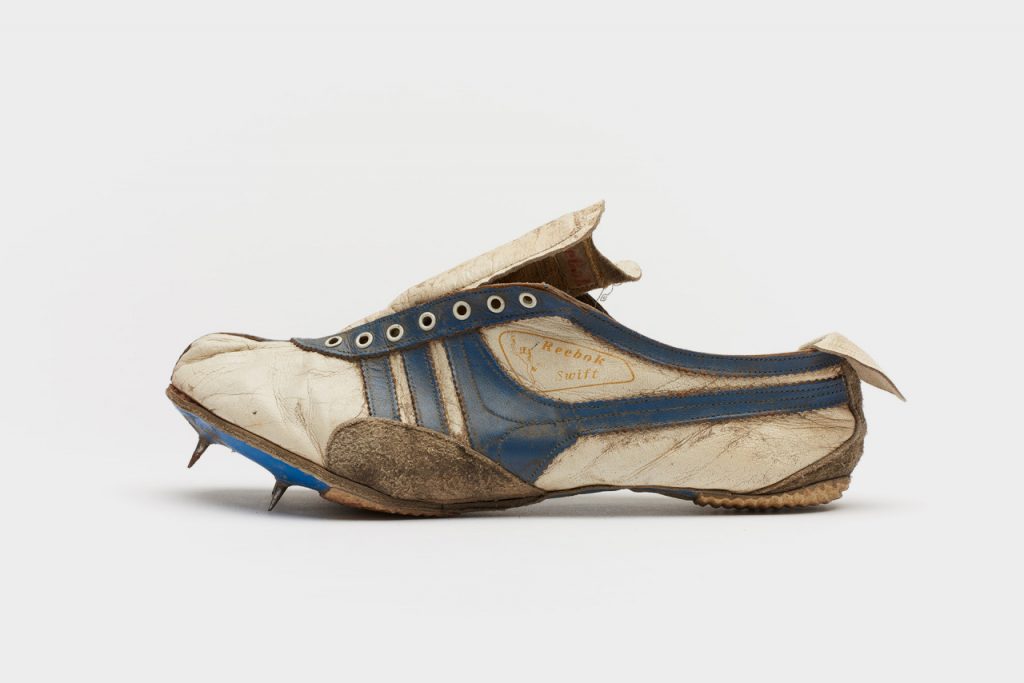 However, following the death of J.W. Foster & Sons' founder, the soon-erupting upheaval of the World War, as well as the dire economic environment of the post-war period, the company began to falter. It was then that Joe Foster moved away, partially also to help his father save face, and created Mercury Sports Footwear in 1958. Due to a copyright conflict, Mercury Sports was soon rechristened as Reebok, the name of a small African gazelle Foster had famously stumbled across while browsing through a dictionary.
The sixties and seventies saw Reebok expand into the US, which Foster regarded as the market of the future. Thanks to his knack for clever marketing, Foster set his eyes on establishing Reebok as a top brand for runners. One way to do this was by getting top ratings in popular magazine Runners' World. And boy did he come through! The late seventies saw Reebok release the famed trifecta of their Inca, Aztec, and Midas models, all three of which obtained the covered five star rating. Towards the end of the seventies, a deal was struck with wholesaler Paul Fireman that guaranteed wide distribution on the North American market as well as Mexico. Interestingly enough, it was Fireman who insisted on featuring the Union Jack on the shoes to give them a more European charm.
Despite this success, Reebok kept on pushing into new markets neglected by other brands. One of these was aerobics and gym wear in general, which allowed them to broaden their appeal across gender boundaries. Rather than release only women's sizes of shoes, Reebok did the then-unthinkable and released a women's only model in 1982, the Freestyle. Only a year later would a men's version follow.
Riding the crest of the aerobic wave, Reebok also sought ways to popularize athletic wear within the lifestyle sector. For one, they brought full leather uppers to the market in the form of their Classic Leather model. Slick yet understated, the Classic range looked athletic but was still ideal for casual Fridays at the office and subsequent dancing at the club. More so, clever product placement in movies such as Alien or Home Alone further enhanced the brand's visibility. Remember Ripley's Alien Stompers? Badassery suddenly wore Reebok-branded boots to kick alien ass!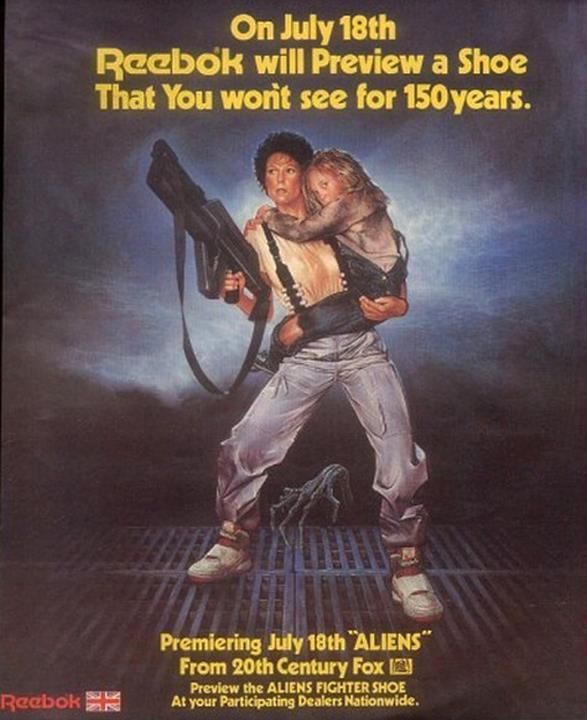 By 1984, John Foster decided to sell Reebok to Fireman, thus making it an American brand that nonetheless kept faithful to its English roots. And they were at the top of their game, having taken the crown from Nike in the early to mid-80s when it came to sales in North America! Besides tennis, where the brand released a bunch of classic models that helped it maintain its cooler-than-you image, basketball soon became one of Reebok's core businesses. The increasingly popular sport had already seen a growing relationship between athletes and footwear brands, with Michael Jordan being one of the reasons why Nike snatched back the top spot in the second half of the eighties.
It was in basketball that Reebok again kept pushing boundaries both on and off court by marrying innovative technologies with clever marketing. Having acquired Ellesse in 1988, Reebok's R&D team reinterpreted the Italian brand's design sketch of an inflatable air chamber hidden within the tongue of a shoe. Following several prototypes and after a long search for a supplier of the "bladder" (a medical device manufacturer, Dialetrics), the Pump was born and ready for primetime.
In 1991, Boston Celtic's rookie Dee Brown provided the brand with much needed exposure: by pumping up his pair of Omni Zone during the 1991 NBA Slam Dunk contest, which he subsequently also won, Reebok's Pump tech was propelled into the limelight even as Nike sought to release its own inflatable tech in the form of the Nike Air Pressure. Another rookie was to take the brand even further in popularity and indestructibly link inflatable tech with Reebok: shattering backboards and slamming on opponents, Shaq took the world by storm. He also bestowed upon them much needed credibility in the inner cities, which was explored and exploited through the Blacktop range. Interestingly enough, the bond between Shaq and Reebok transcended monetary interests and turned into a lifelong affiliation most vividly signified by the recent purchase of the brand by an O'Neal- backed consortium.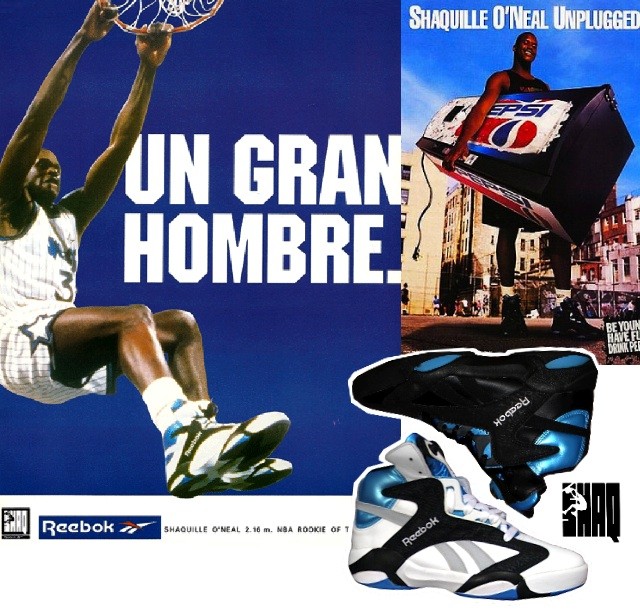 In any case, Reebok's Pump became part of a ritual across disciplines, with tennis star Michael Chang for instance inflating and deflating his shoes throughout big games. The Reebok Pump Graphlite, which was more strictly geared towards runners, continued that success story at a more relatable price point in 1993. A year later, the Pump Fury helped the brand maintain momentum by not only being the most expensive (thanks to that Graphitle sole), but arguably also the coolest and most outlandish shoe on the market in the mid-1990s.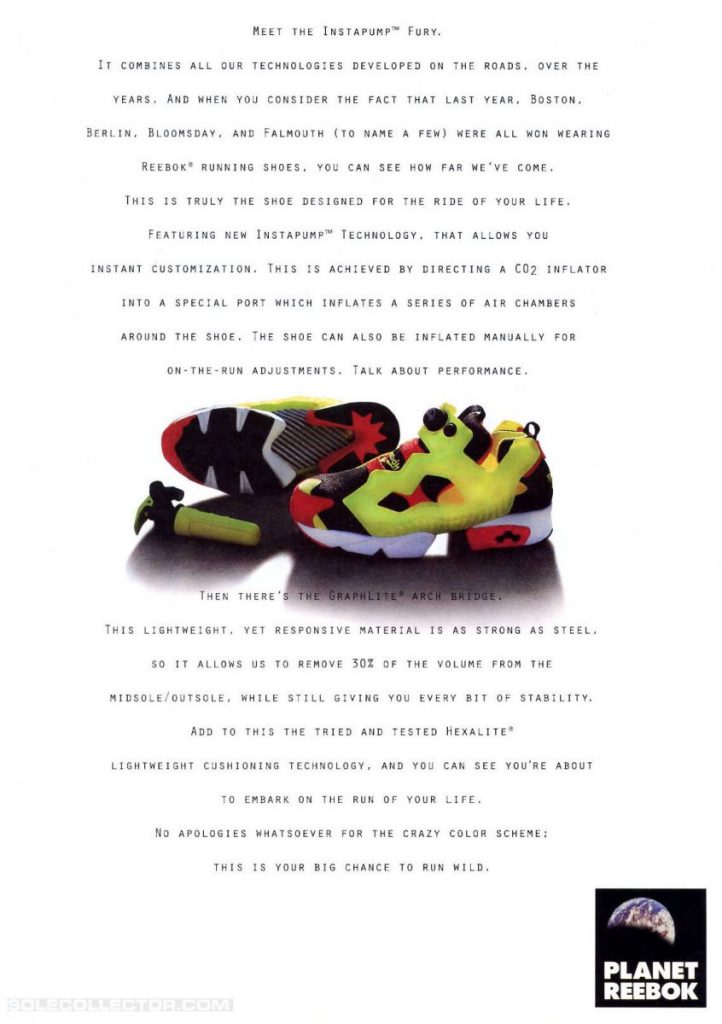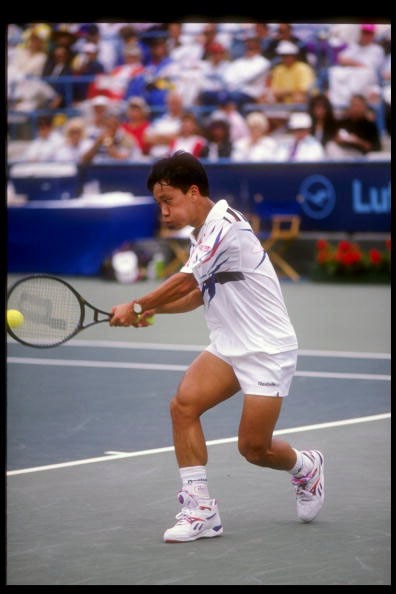 Other models such as the Reebok Pyro, the World Best, or the Boston retained the Bok's stock with joggers and other athletes despite not featuring pump technology. In 1996, Reebok released the Interval, a runner with Hexalite cushioning in the midsole. What was special about this pair was the gigantic branding that stretched over the whole side section of the upper. Again and again Reebok proved that it not only had a knack for innovative technologies and design, but also knew how to market these cleverly. Alas, this was to change in the new millennium, that saw Reebok dwindle in importance and ultimately end up being purchased by Adidas. Like a disliked stepchild, Reebok persisted in a fringe existance within the exploding sneaker business
The history of Reebok won't end here of course, but our story does for now. Maybe in due time, we will look at the brand's slow decline and small revivals in another episode of Womft? Vintage Fridays. Before you leave, however, check out the Reebok gems below!
Womft? Vintage Fridays is curated by Alex Kais, aka @armerschuster. Contact at armerschuster@gmail.com