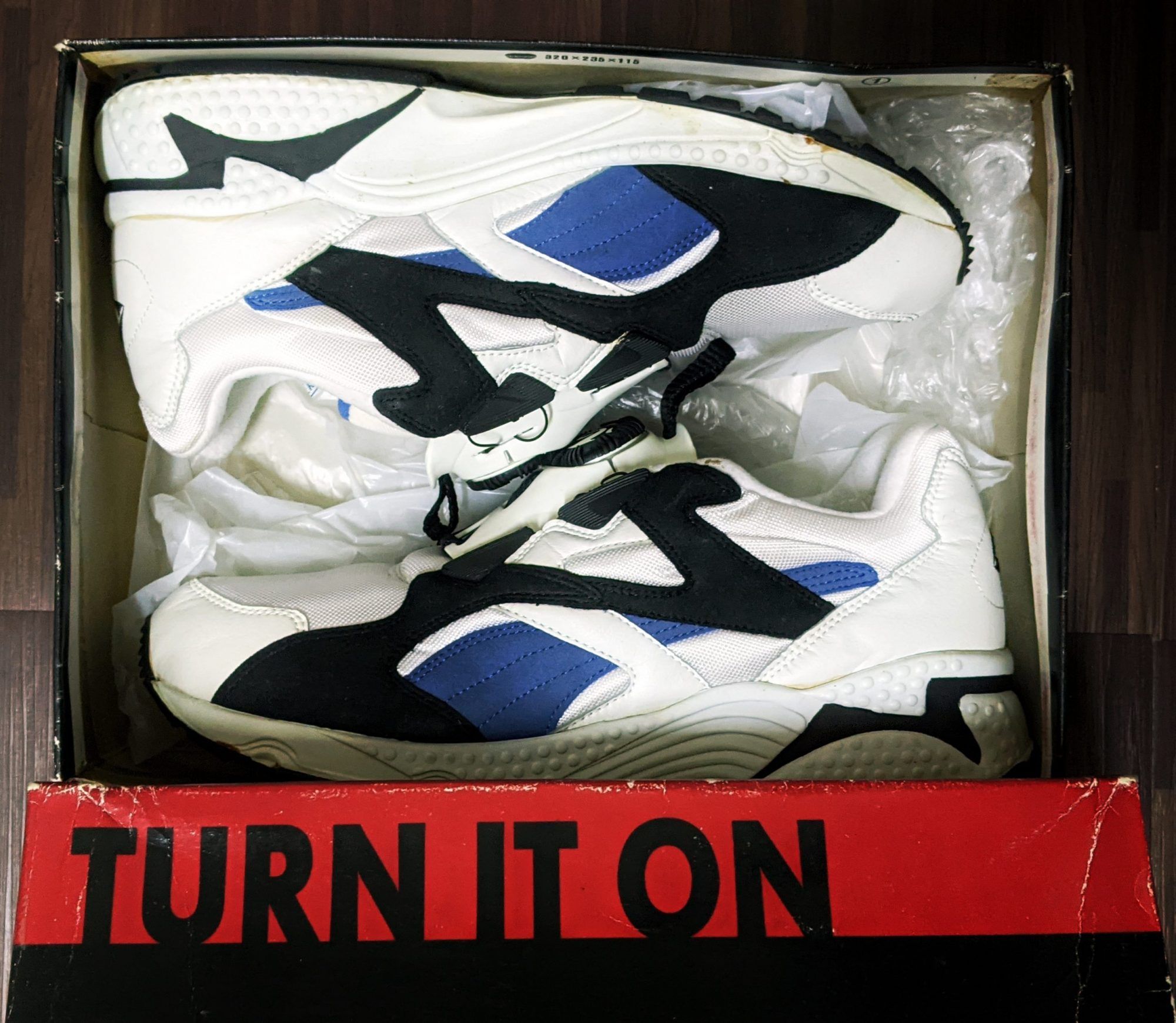 Vintage Fridays: Puma edition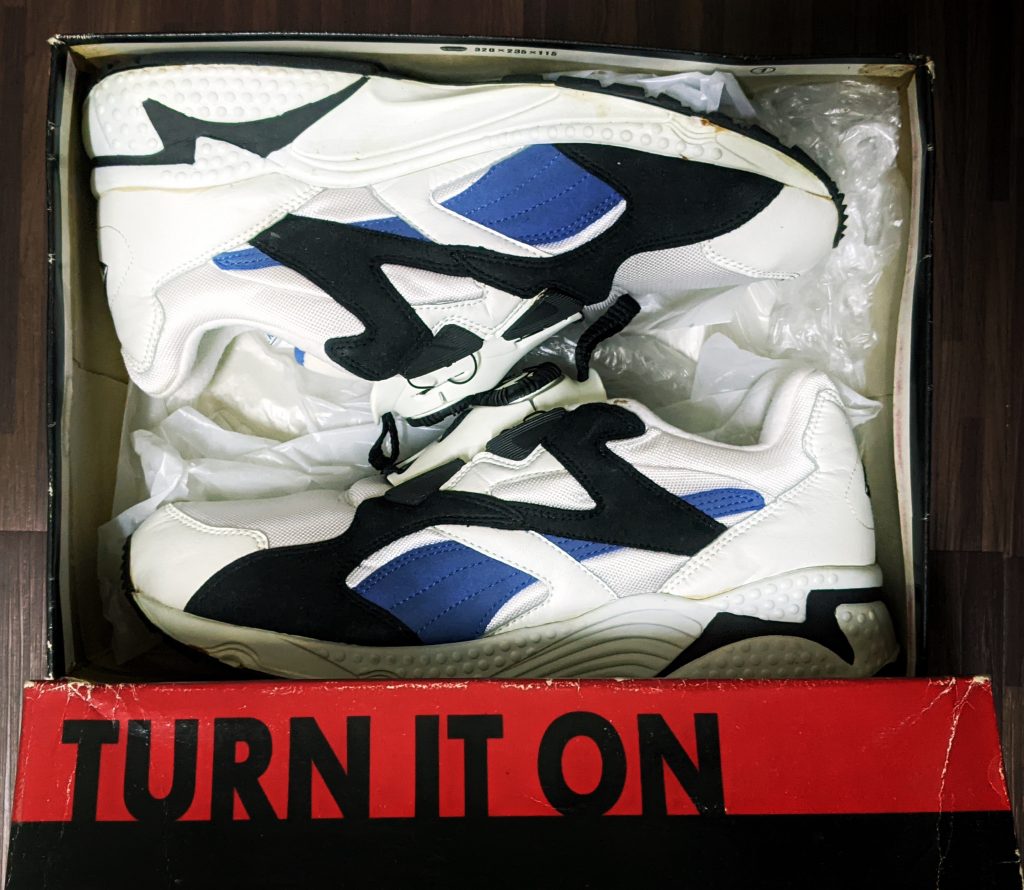 Puma is one of those brands that always have been a staple in the sneaker game, yet never really stood in the prime-light, at least in the western world. Despite some laudable retros, the excellently executed XS7000 the most recent example, Puma's fanbase ist most prominent in East Asia, with Japan in particular having plenty of collectors. Moreover, most focus there is not on running models, but the lifestyle range that features pairs such as the Suede.
However, having recently picked up an OG 1994 pair of the Puma Disc Trinomic – from Japan of all places (and named Scion there) – it's time to look at some of the fantastic kicks the "other" Herzogenaurach brand has put out in the 90s, with the Scion kicking things off. Creaking with every step and barely holding on, these are still a fantastic sight to behold, albeit one that is more reminiscent of German tank engineering than running prowess.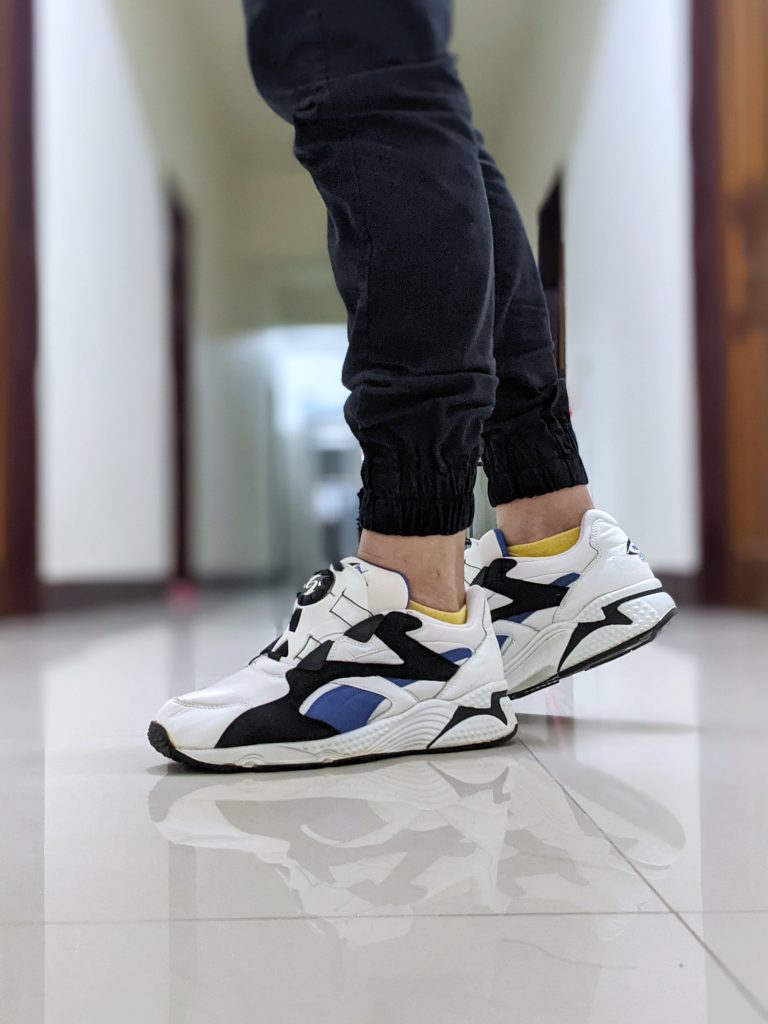 A result of the brand's early '90s creative outburst, Puma's Trinomic range were their main option for runners. Equipped with cell cushioning (think Reebok Hexalite but bigger), and a relatively soft EVA unit with stability elements infused, Puma responded to design trends that have dominated running shoes in the late '80s and throughout the '90s. Their true claim to fame is the proprietory Disc® technology, however, a lacing system that aims to allow for quick and thorough fastening. Sitting atop of the tongue, the disc unit would tie the foot down with a satisfying clacking noise, as well as release it rapidly when turned counterclockwise. Revolutionary and all this was, the technology was nonetheless plagued by a heavier than usually weight. Interestingly enough, sacrificing light weight for high-end technology seems to be a German thing, as Adidas, too, released many groundbreaking designs (think of the tech-laden ZX8000, the Tubular range, or more recently 4D) that couldn't break through due to them ultimately being way too impractical for runners to adopt.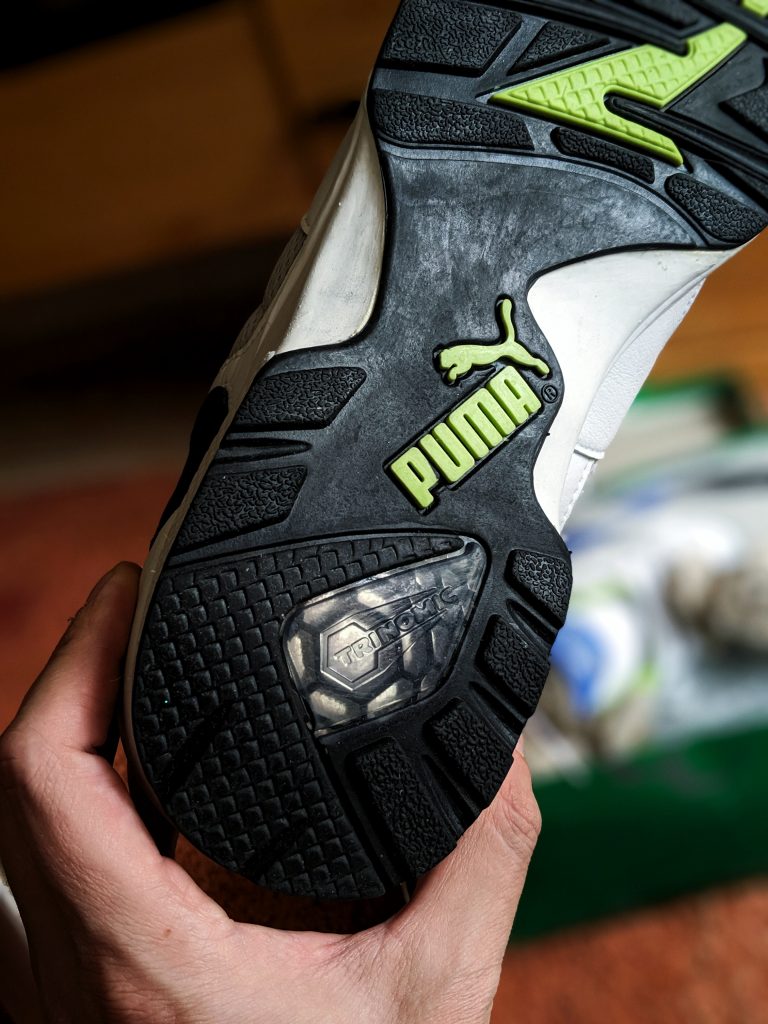 Probably in a nod to runners looking for a lighter (or more economic?) option, Puma also released the Prevail. Featuring the characteristic Trinomic cell cushioning, a soft EVA mid and an x-rated tongue unit so thick it makes your momma blush, the Prevail delivers everything one would expect from a '90s running shoe. Additionally, thanks to the construction and materials used, these are actually quite sturdy, with OG pairs still being wearable. Notably, the recent retros, which sadly almost-universally ended up on sales racks, in all actuality were well conceptualized and true to their '90s ancestors.
Let's take some time and dig into the IG archive to unearth some gems. First up is an alternative colorway of the Puma Disc Trinomic worn by Polish collector Malysz. With the main blue accents being replaced by a dark green, and the toebox mesh coming in equally somber blue hues, this version is a interesting take on the classic.
Another great model from that era is the 1992 Puma Duplex. Coming here courtesy of Torben aka Mr. Dallas, this model sees green accents on the eyelets and mid, while the side paneling is draped in lilac. With a shape to kill for, this pair already sits at the intersection of running and lifestyle!
Recently, Puma released a 30 year anniversary retro of the XS7000 to great acclaim from sneakerheads. Almost indistinguishable from the innovative 1991 OG, the retro captured aptly the spirit of its predecessor. Below is the '91 OG worn by famed sneaker restorator Thomas aka Solehunter77. Look at that patina!
As was often the case, many of the best colorways were reserved for WMNS models like this Lady Trail. Coming from the massive collection of Jan aka All.about.Puma, this OG runner combines all that is good about '90s running shoes – aerodynamic shape, an elegantly sculpted mid, and plenty of tech. And who would have thought that teal and lilac tones on the same upper work so well?
Another great of the German Puma scene is Mahatma, who shows off here a lovely obscure pair one would hope can see a retro in the future. The '92 Disc Intact features the eponymous lacing system, the mid from the Puma Prevail, and features purple hits throughout the upper. Also note the in-your-face branding!
Staying with Mahatma, we have the Trinomic Plus Racer next up. A lightweight model that foregoes the usual bells and whistles to retain its minimalistic profile, this '92 pair aimed at the Triathlon and racing market that was dominated then by Brooks, Etonic and Nike. Do note the idiosyncratic paneling on the upper, as well as the two-tone mid!
Also leaving out the Disc lacing system, but sharing a similar mid platform as the aforementioned Disc Trinomic is this Puma Trinomic Viento from 1996. Brought to you here by Sneakerblick, this rare model employs a clear design language that sees blue and green accents dominate the upper. Additionally, as seemingly was usual with Puma models from this period, the tongue is as fleshy as it gets, ensuring that your foot is hugged tightly even in the absence of Disc lacing.
Another pair that was recently retroed is the Puma Mirage. Whereas other Puma models of the time stunned consumers with high-tech designs, the Mirage kept things simple yet effective. Be it the colorway with the peachy accents, or the harmonious combination of mid, stability bar, and general shape, this model is sure to have turned heads similarly in 1992 as today.
Turning away from Puma runners for the final part, we can take in the two-tone neon goodness that is the Disc Leather Tennis. Also stemming from 1992, which must be regarded as Puma's creative Sturm und Drang period, this model combines exquisite materials with lovely accents and a sturdy rubber-encased mid. Not sure how well these would have performed on-court, but off-court at least these are a matchball!
Finally, let's take a quick look at the type of shoes coveted by Japanese aficionados. Courtesy of the Japanese Puma Archive, these Korea-made Cats are from the '80s. Devoid of any tech (or a comfy mid for that matter), they nonetheless catch the eye thanks to the prominent red logo on the side panel of the all-leather upper. Not a bad model to end this round-up, eh?
Womft? Vintage Fridays is curated by Alex Kais, aka @armerschuster. Contact at armerschuster@gmail.com