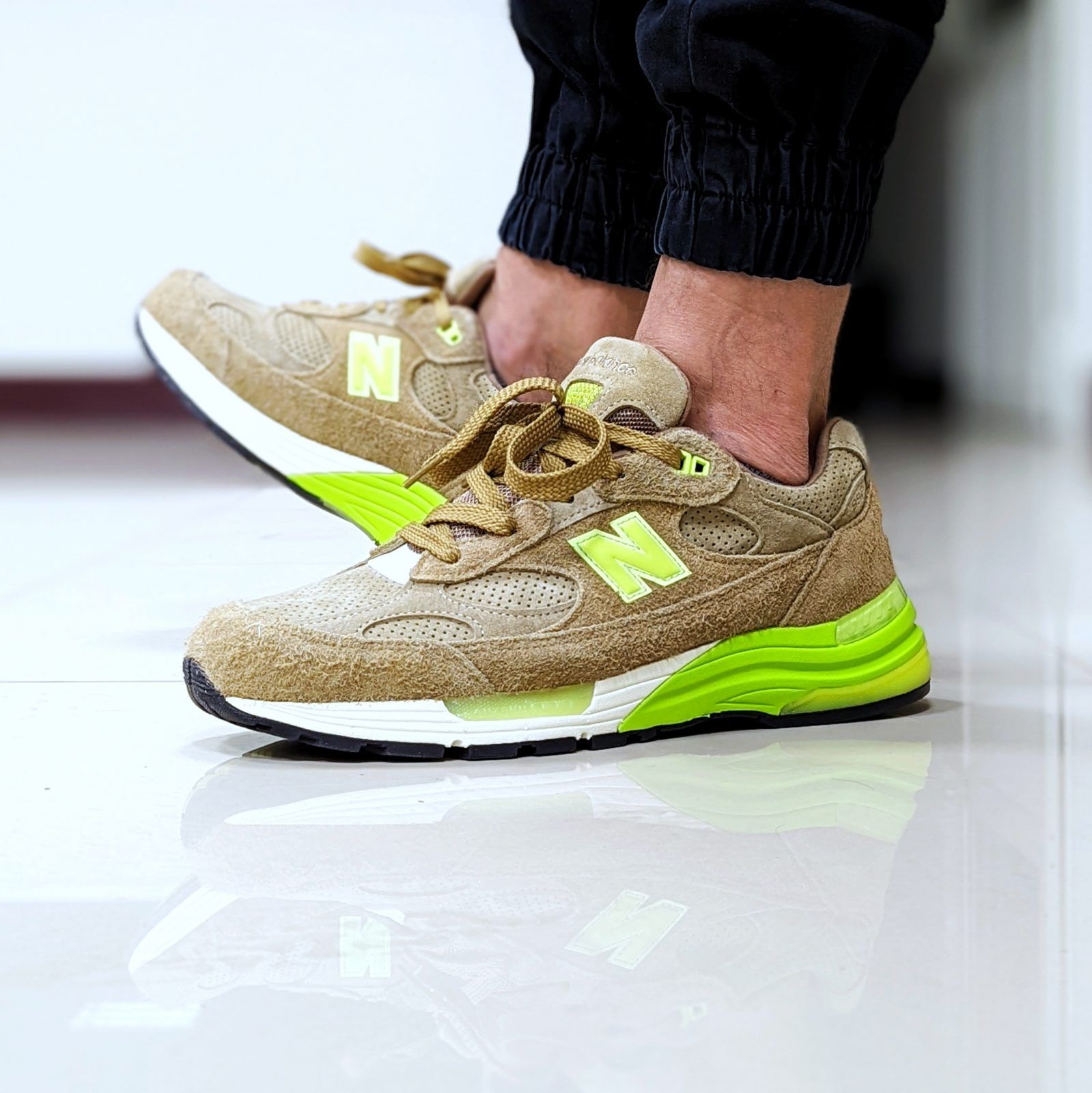 Womft? Review: NB 992 x CNCPTS "Low Hanging Fruit" aka Kiwi 🥝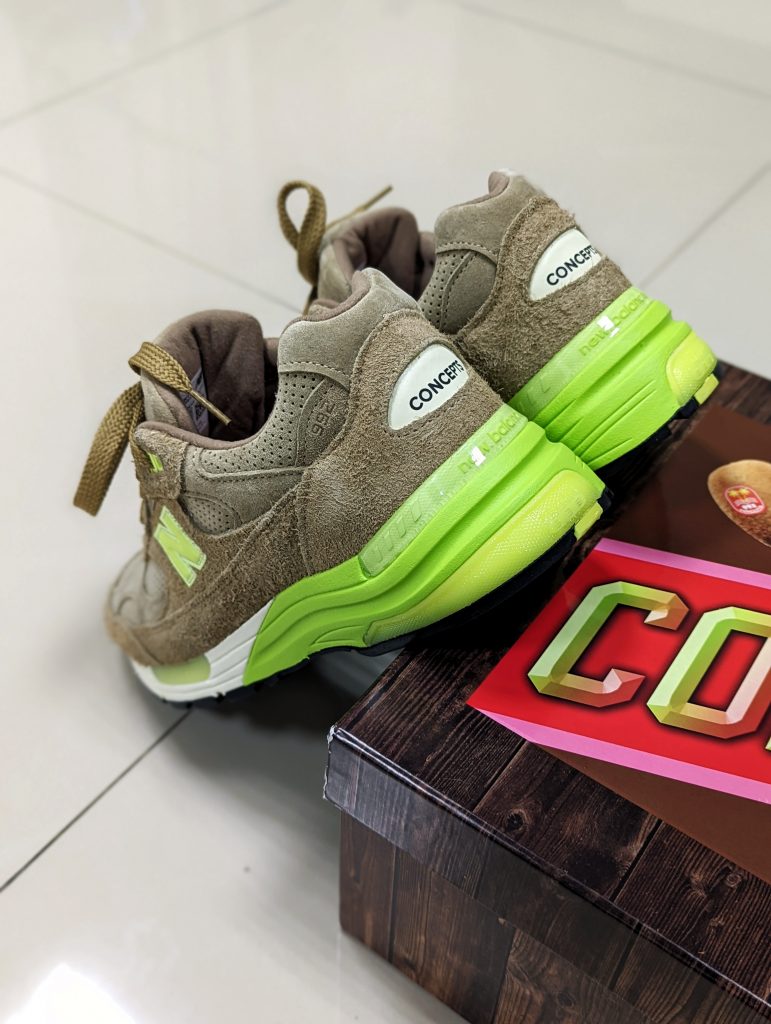 In recent times we have seen an explosion of collaborations between sneaker brands and fashion outlets, artists, and designers. This proliferation of creative input is more than welcome and speaks to the diversity of voices and visions found within the community. But what exactly makes a good collaboration? How does one craft a unique design that at once stays true to the original model while maintaining a modicum of appeal?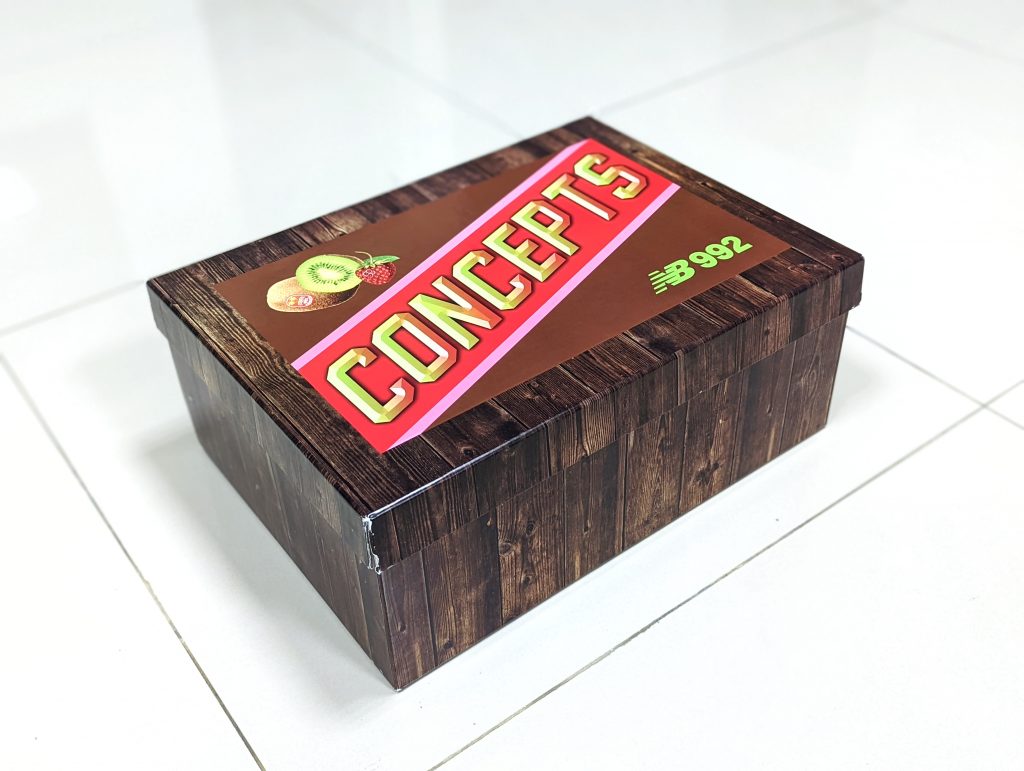 One key figure of the game is the East Coast's very own Concepts: Spearheaded by Deon Point, these OGs have gained a faithful following through their collective efforts with Asics, Nike SB, and, most noteworthy, Boston's own New Balance. Most recently, Concepts has created the New Balance 992 "Low Hanging Fruit", thus giving us an opportunity to reflect upon what makes a great collaboration through this brief review.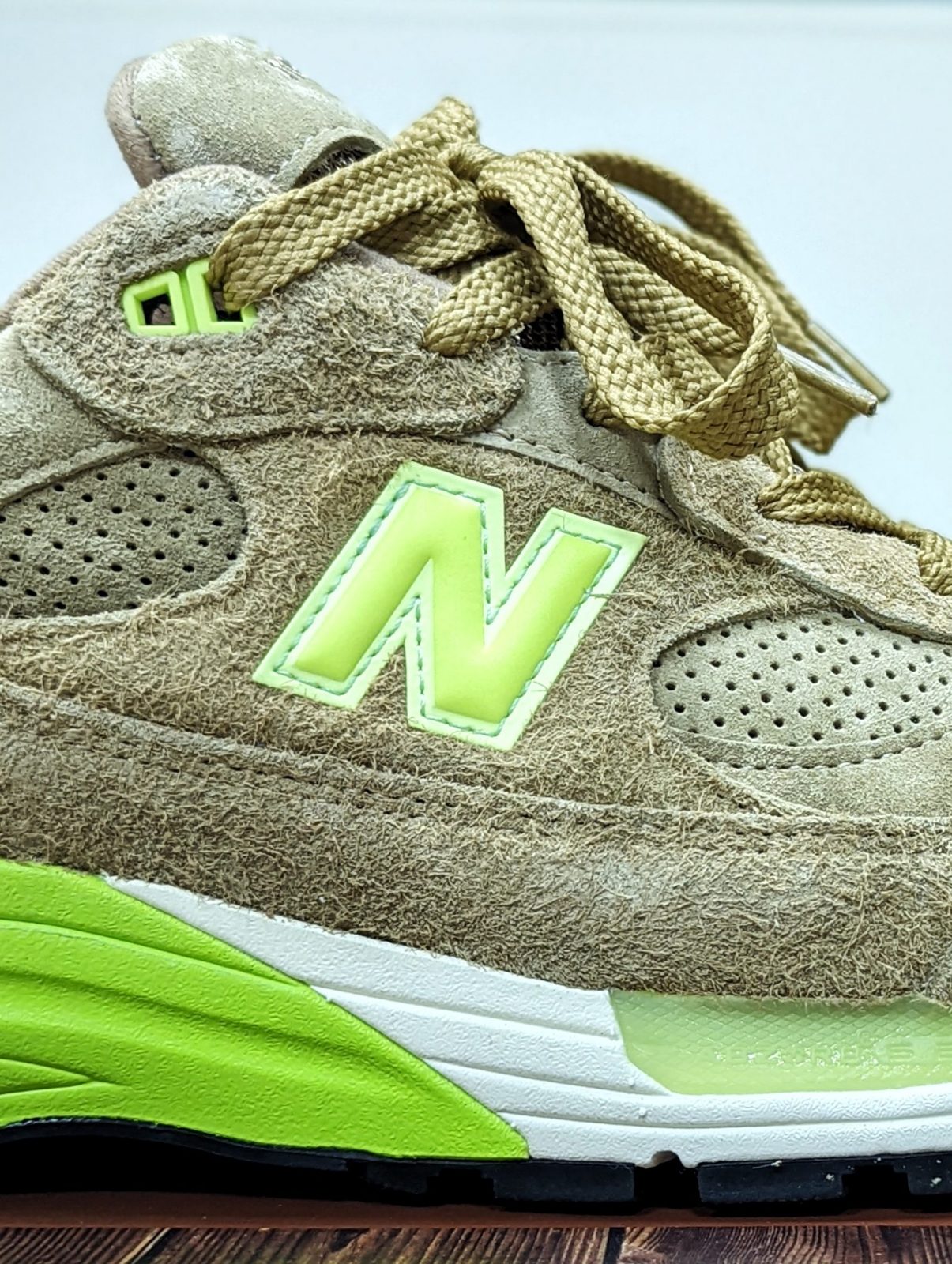 Initially, sneaker collabos mainly meant specific pairs endorsed by famous athletes. Be it Chuck Taylor's Converse All Stars, or Michael Jordan's Nike basketball kicks, these were still very much sports shoes that used their namesake's popularity to leverage market share as well as make forays into the lifestyle sector. Although the mid-80s already saw Adidas inking a then-revolutionary endorsement deal with Run DMC, and Air Jordans increasingly pushing the boundaries of style, it was only in the early 2000s that collaborations between sneaker brands and musicians became more commonplace. Yet only few of these efforts actually saw meaningful input from the artists themselves, who were usually only expected to lend their names and rock them kicks in public.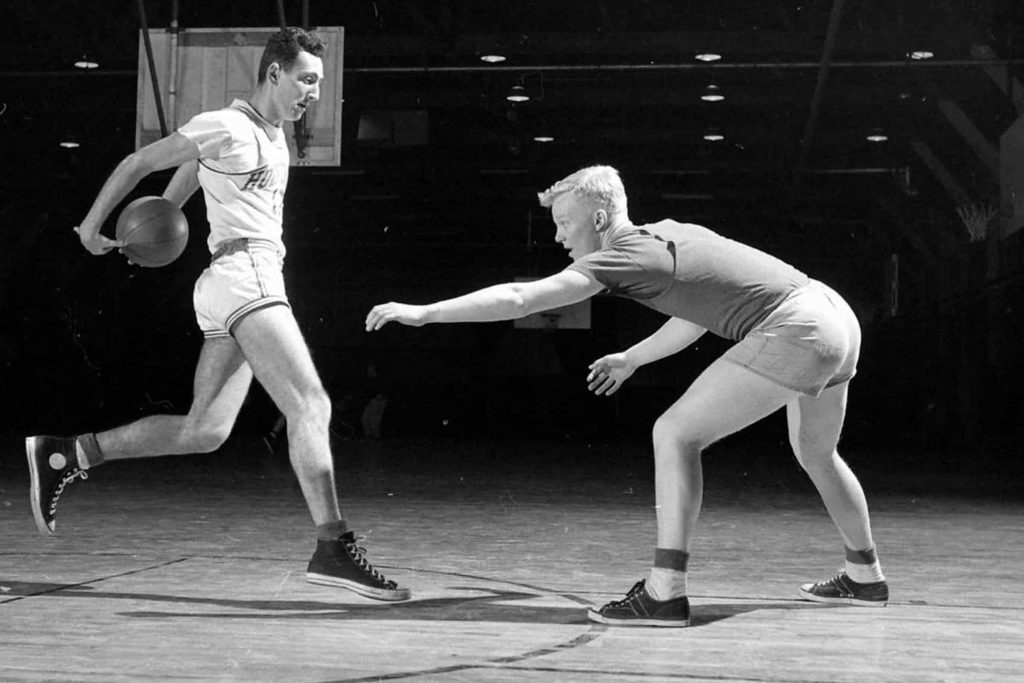 Nowadays, the story has changed of course, with collaborations not only having grown in number, but also being done with people that have little fame to their name beyond the sneaker game. Despite this unprecedented output of creativity, the growing staccato of releases also begs the question of what makes a good collabo. Looking at recent releases, the storytelling aspect appears to have almost overshadowed the design part in so far as the latter is being dominated by the former. Probably controversially, this author at least thinks that it should be the other way around, if one has to take precedence over the other.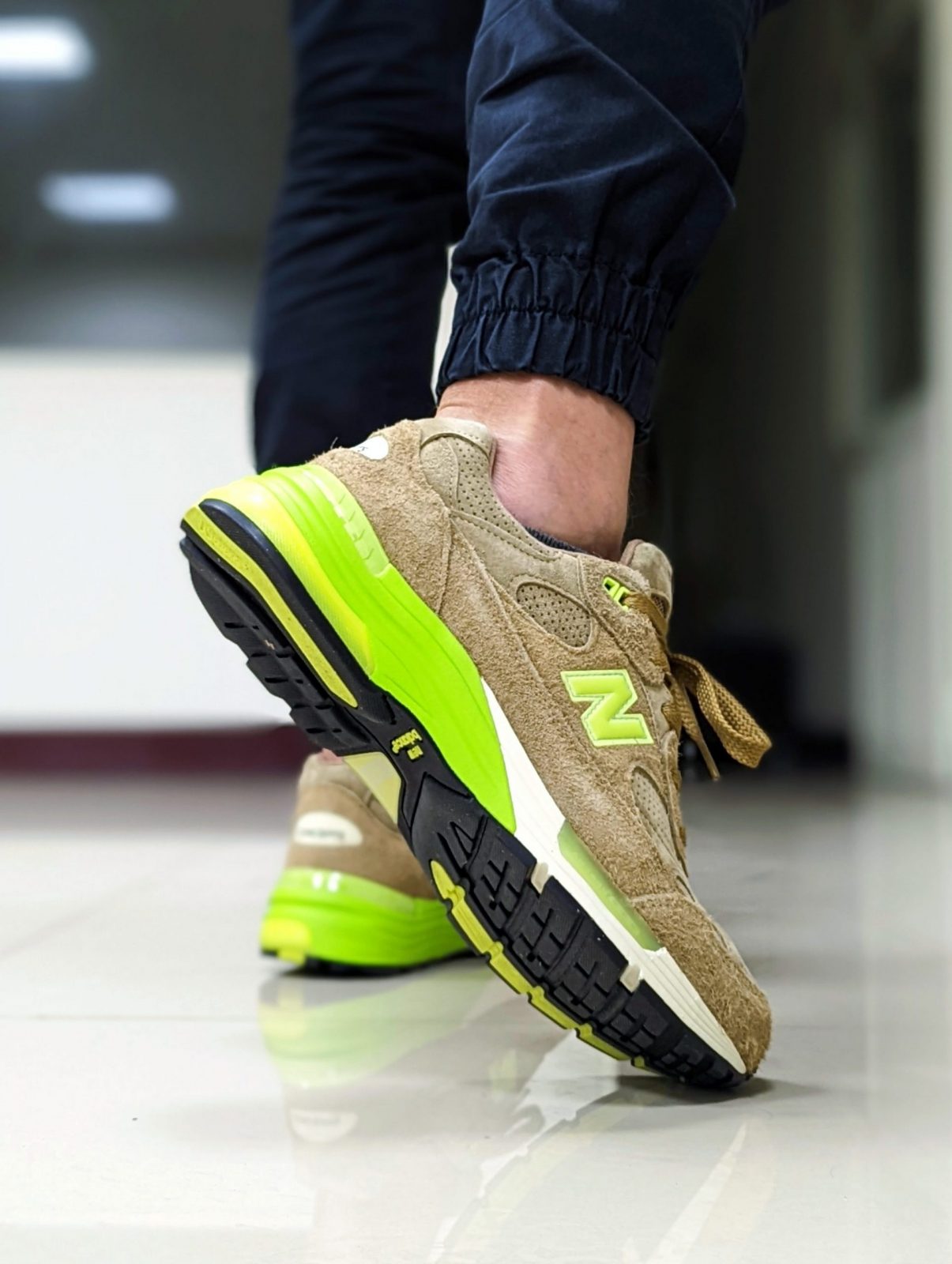 This brings us back to Concepts' "Low Hanging Fruit" NB 992, or "Kiwi" as it is widely known. Storywise, the "Kiwi" is a homage to Frieda Rapoport Caplan, the entrepreneurial pioneer of the wholesale produce business in North America. Later known as Kiwi Queen herself, Caplan's own story is highly enlightening. Not only does it provide lessons on how to channel one's inner creative wits to overcome adversity, but it also teaches us how to cater to and guide the tastes of one's audience. See, although kiwis had already been introduced to California in the 1950s under the name of "Chinese gooseberry," the novel fruit proved a hard sell. That was, according to contemporaries, partially due to the somewhat awkward moniker and because its appearance was deemed unappealing. Caplan changed all that, first by adopting the new name of kiwifruit New Zealand exporters were promoting, and secondly by actively creating an appetite through innovative marketing. This success not only helped to establish kiwis as a staple of the modern palate, but also saw Caplan and her mainly female team prosper.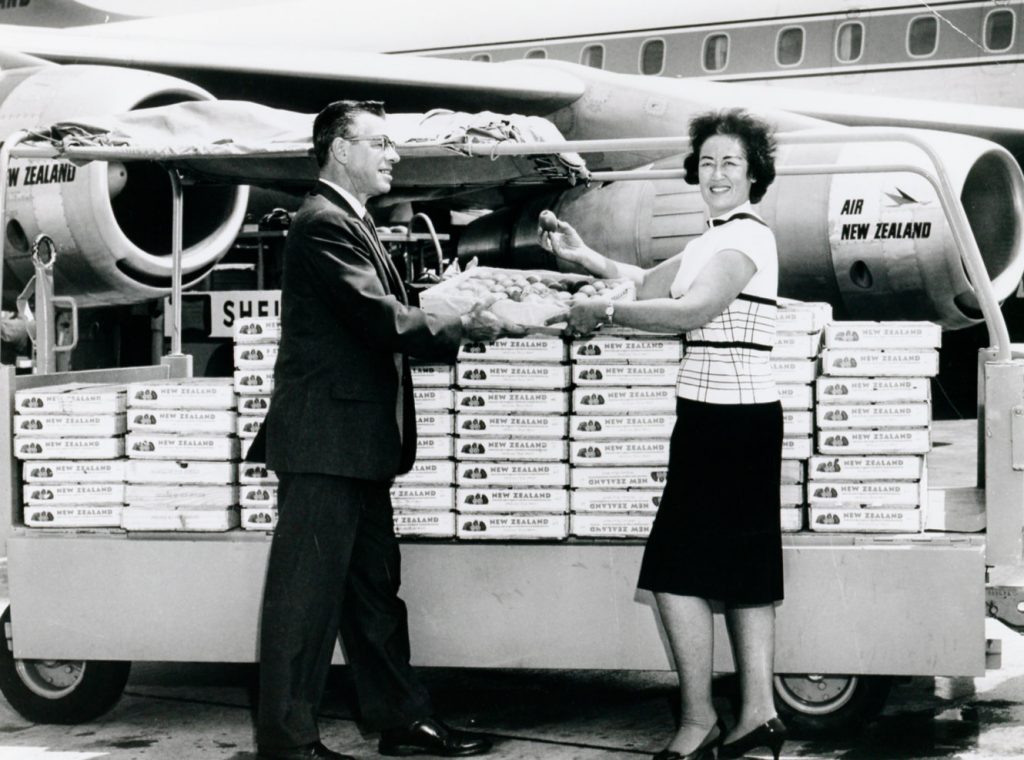 Design-wise, Concepts' "Low Hanging Fruit" New Balance 992 employs a fantastically clear aesthetic language on the 992 silhouette to tell this story; it not only looks intriguing, but also effectively alludes to the core symbolism. Draped in a buttery smooth toebox with a woolly suede mudguard, the dominant hazelnut brown upper is then accentuated by an extremely fresh neon green on the lateral "N", the tongue, and throughout the thick midsole. In essence, this 992 evokes as much of the Platonic kiwi ideal as a shoe could ever do without feeling grotesque (think of Reebok's Grinch Pump Furys for an example where design was taken too far). This bold concept is further accentuated by a strawberry-themed set of insoles that not only refers to the kiwi's famous cocktail partner in crime, but also references Concepts' own inaugural year. Both the first Kiwi Strawberry drink and Concept's founding took place in 1996.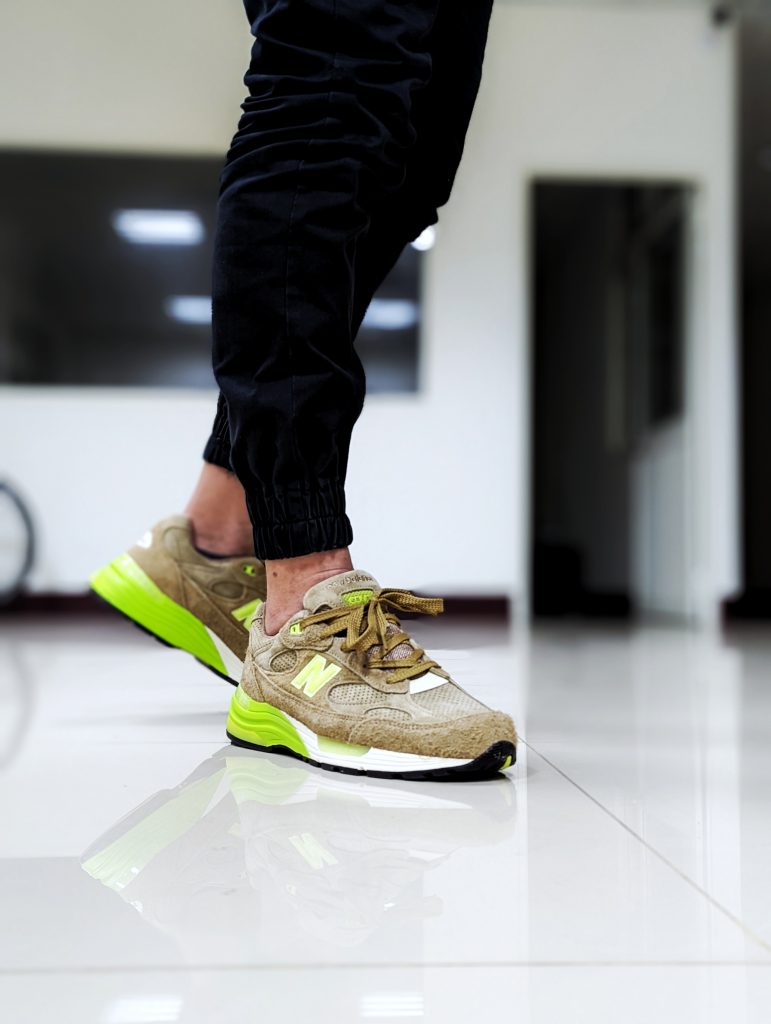 Yet you wouldn't know all this unless you took an actual interest in the shoe's backstory, or stumbled upon the scattered reviews that care to look deeper than the 992's upper and Concepts' promo text on their blog. Although the pair comes with an outrageously large extra box reminiscent of the very fruit crates Caplan helped popularize, the packaging is devoid of any info on the Kiwi Queen and her broader history. While one could lament this as a missed opportunity to educate, this is still perfectly fine as the "Low Hanging Fruit" works as a standalone product. And this, in fact, is how the whole concept started.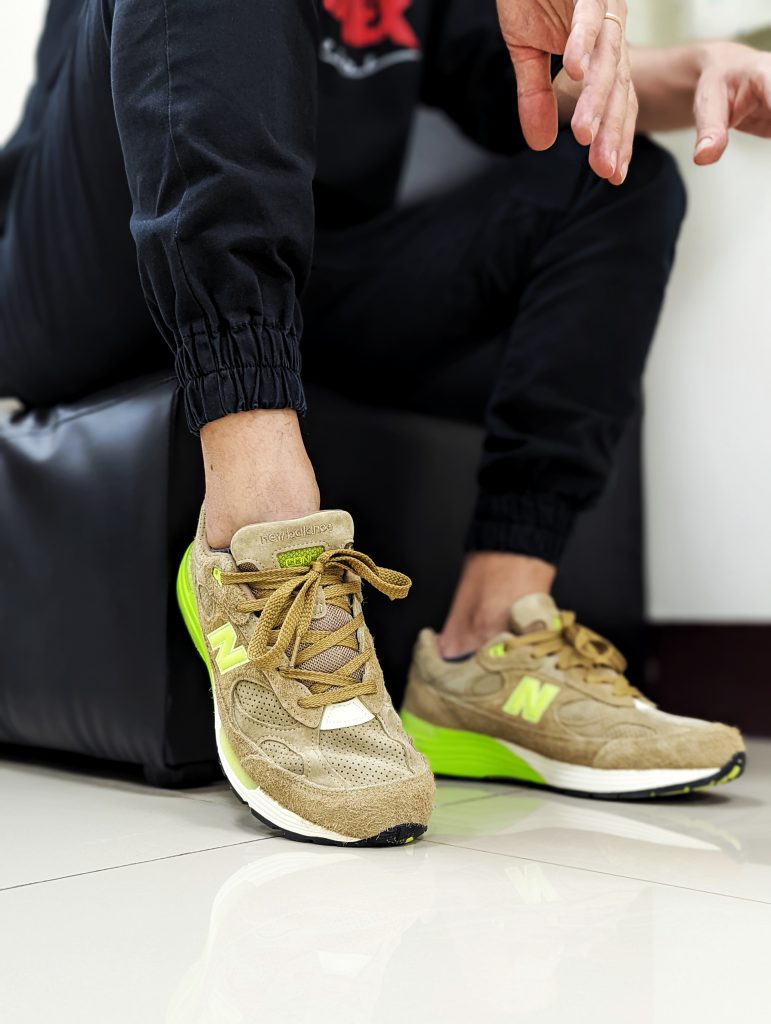 According to Deon Point, he was first intrigued by the interplay between the hazelnut tone and vibrant neon green. "I get told I overthink the backstories, so I just wanted to use those colors because I liked the way they work together." The actual story, then, was borne out of the prototype's striking resemblance to kiwis and an attempt to learn about these fruits. Says Deon, "I then kind of went down a rabbit hole on kiwis and stumbled across [Caplan's] story." The Concepts' team subsequently reached out to Caplan's family, but after a year of no call back it was only shortly before the release that they were contacted and given the green light to use her name.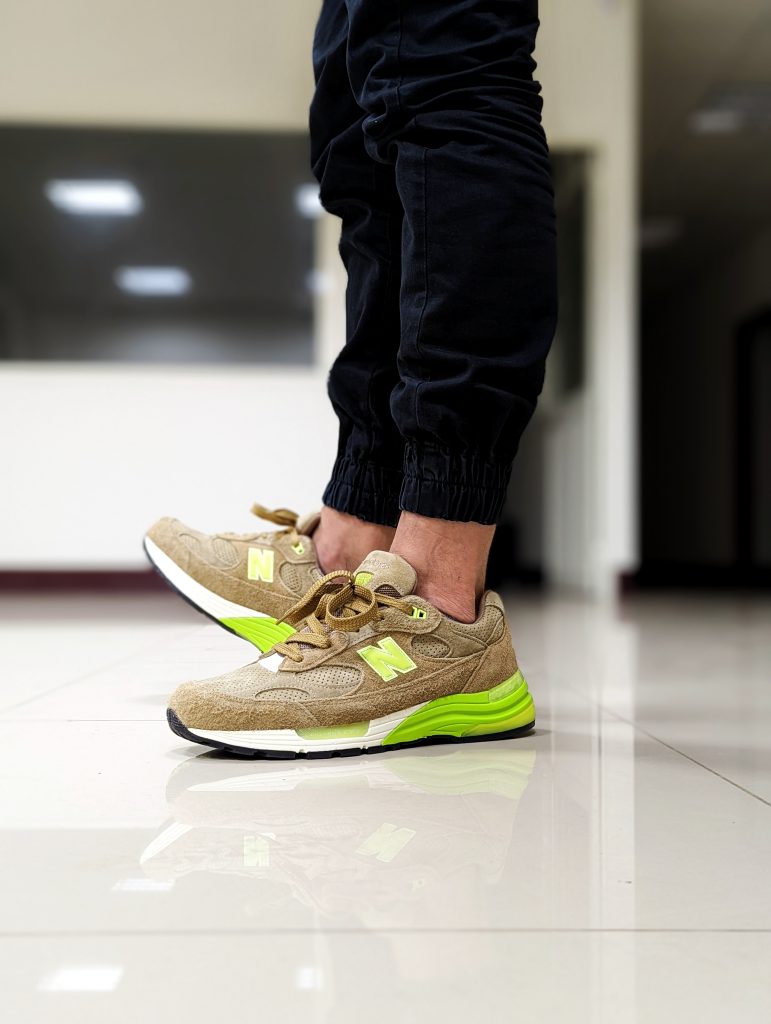 In the end, the "Low Hanging Fruit" demonstrates the importance of putting design first when it comes to sneaker collaborations. You can have a terrific story and elaborate narrative, yet these won't take you anywhere if your kicks look like yet another general release. On the other hand, a dope pair of kicks with a fresh design can carry a lackluster story, especially at a time when the average attention span is decimated criminally anyway by the likes of TikTok and Facebook. Ultimately, of course, the harmonious interweaving of both design and backstory exemplified by Concepts' 992 will be required to achieve the highest marks.