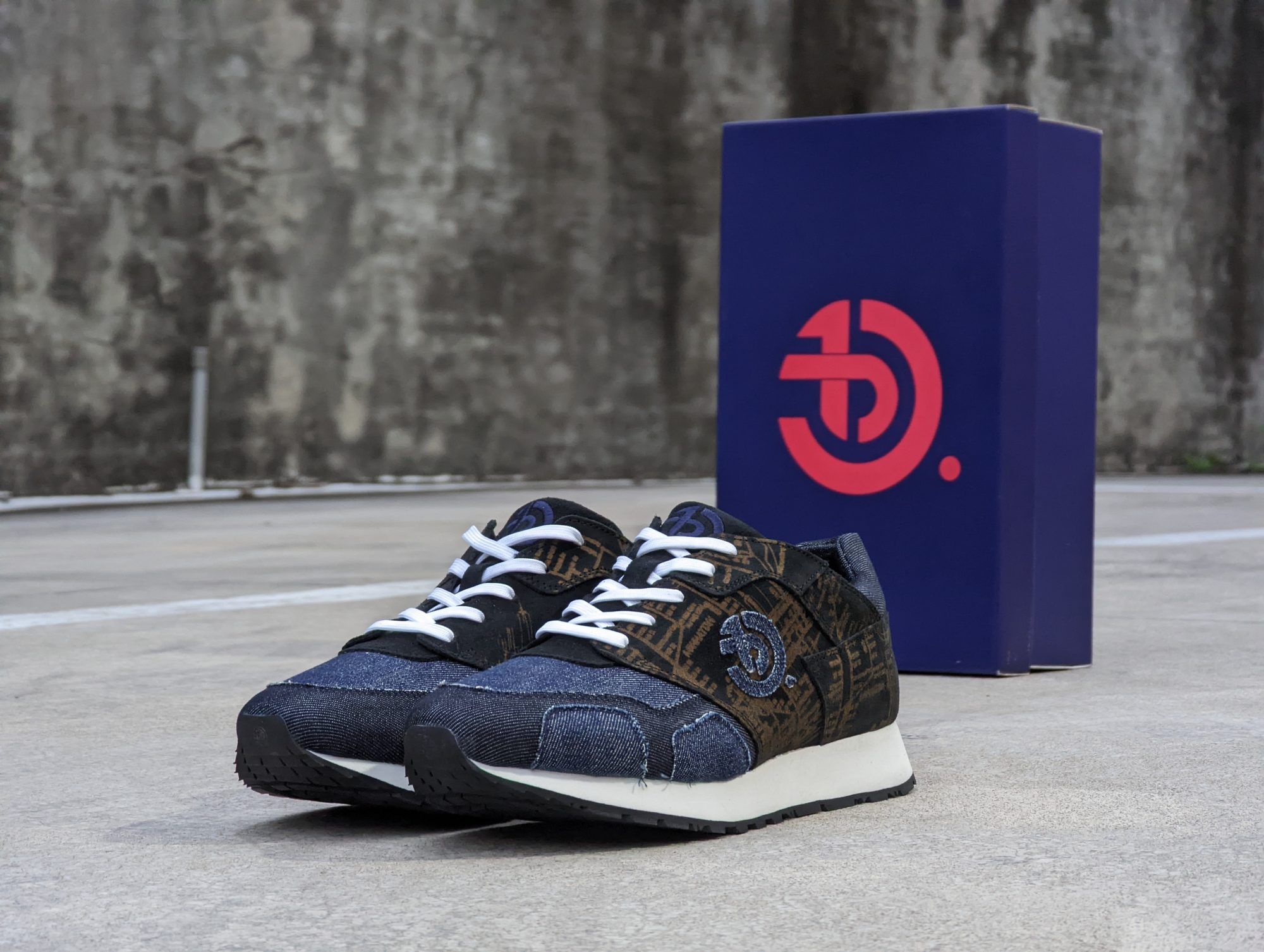 Womft? Feature Review: 10.January LA Gennaio "NYC"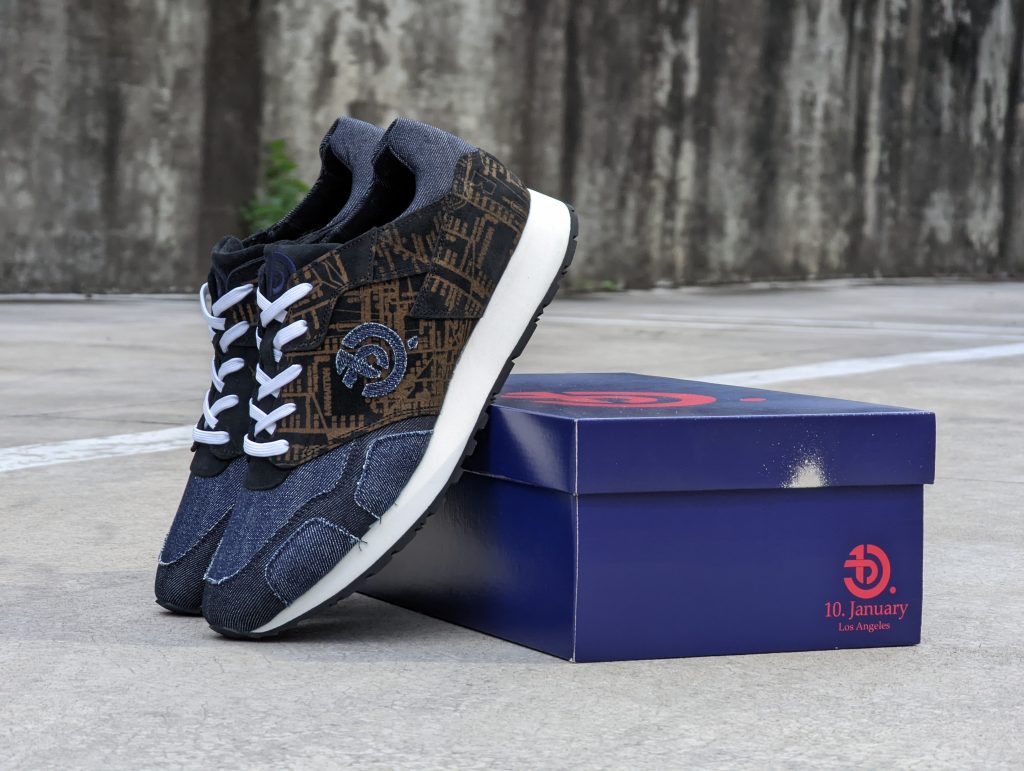 New York City. Paradise and Babylon, inexplicably intertwined. Dreams built and smashed, constantly. Skyscrapers and derelict housing, next to each other. Classic concerts in parks, rap music blasting, taxis honking, subway noises drowning out conversations, a breathless staccato of change. Museums and basketball courts, Michelin restaurants and hotdog stands, lived eclecticism. And so many diverse people, laughing, talking, bitching, yelling, smiling; the platonic ideal of the melting pot. New York City – wouldn't ya want to be here, because of it all? Despite it all?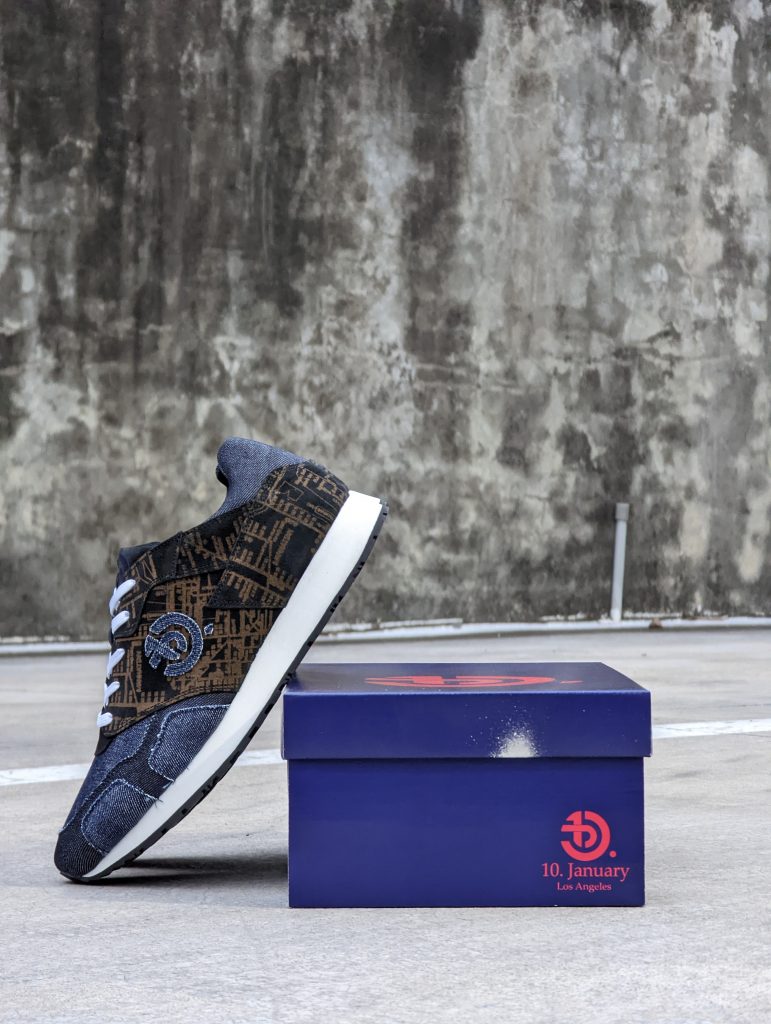 The conundrum that is New York is the backdrop to sneaker upstart 10.January LA's (10.J) newest addition to its rapidly expanding portfolio, the Gennaio "NYC". A homage to the Big Apple and its global sway, this model functions also as a boot to traverse this city – or any other – with. Irrespective of the elements you may encounter, or the obstacles chance might throw your way. Stylish yet rugged, the Gennaio "NYC" is not only a milestone for 10.J, but also representative of the brand's coming of age. Elegant, but for the hustlers, too, it is the perfect occasion to introduce this hungry team to new audiences.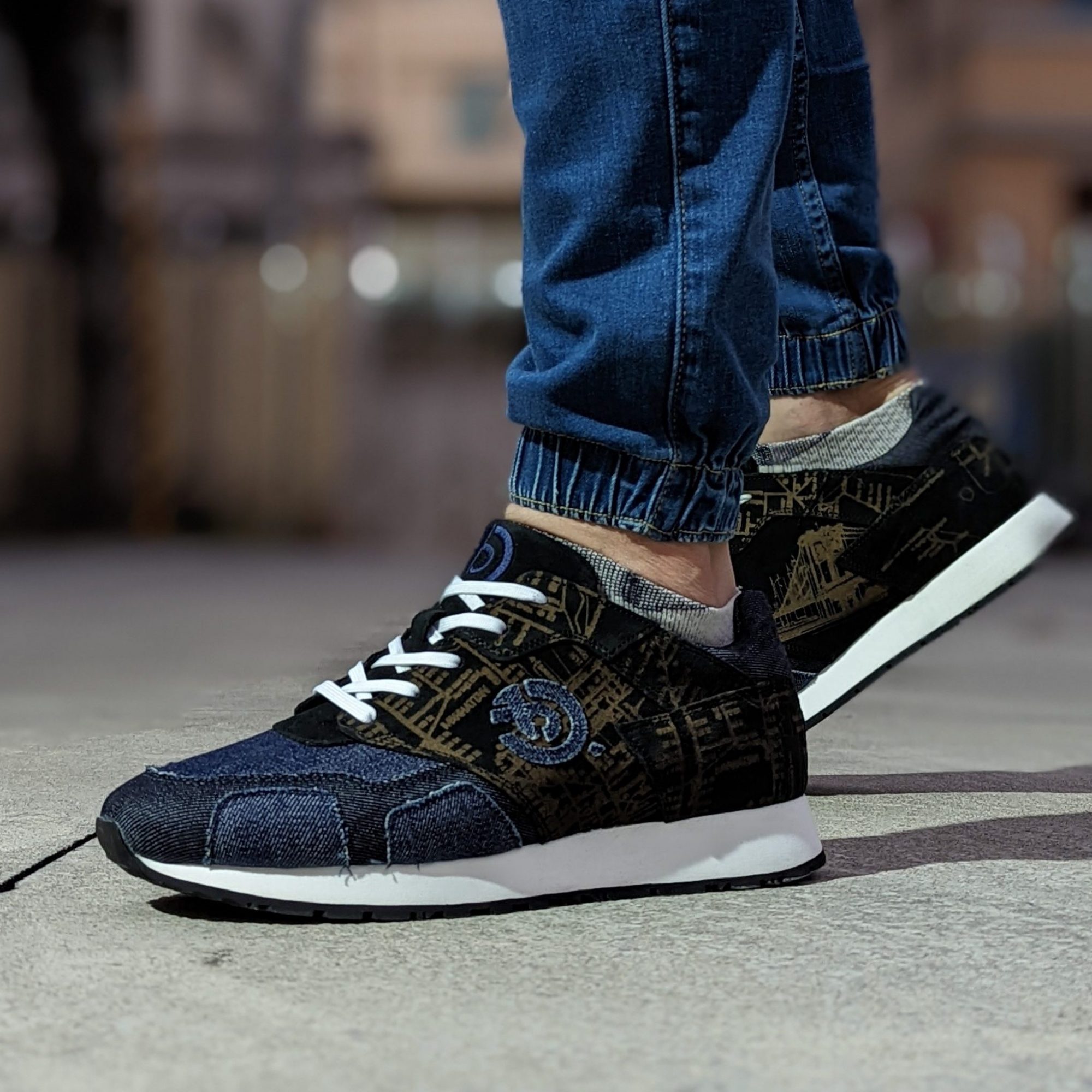 See, 10.J is the brainchild of Jamie Kravietz, a California native with a previous career in glass making. Despite his LA roots, Jamie also spent a large portion of his life on the East Coast. But 10.J is expanding: the newest addition to the team is none other than consultant extraordinaire and NY citizen Mikey Dabbs, who's better known under his IG handle @the_camp0ut. They are joined by talented artist Jerome Tryon, who contributes to the design-side of things beginning with the NYC. Together, this trio infernale aims to take the young company to the next level, turning it from an enthusiast project into a staple of the yet-nascent handmade sneaker segment.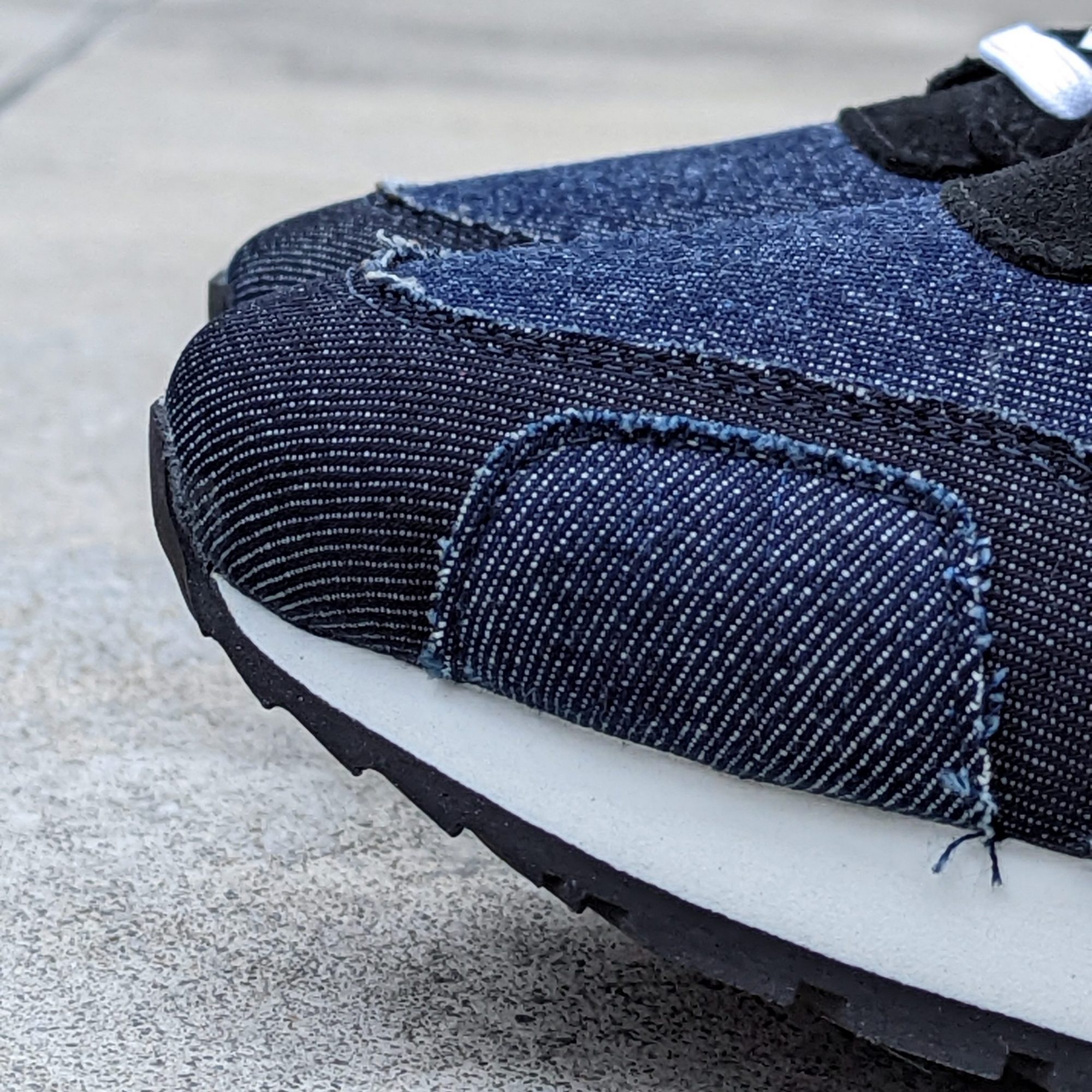 Looking at 10.J's output, it's hard to imagine that the brand was only conceived in 2018, and founded a mere year later. Even more impressive is the fact that Jamie was initially all by himself. Having just concluded his glass-making chapter, where he had made a name for himself through innovative, um, smoking paraphernalia, he went back to his passion for sneakers. Looking to explore a different artistic outlet, he explains that "10.January was born from a love of sneaker collecting, as well as a shift in my professional life, which allowed me to open up an avenue to explore that idea!"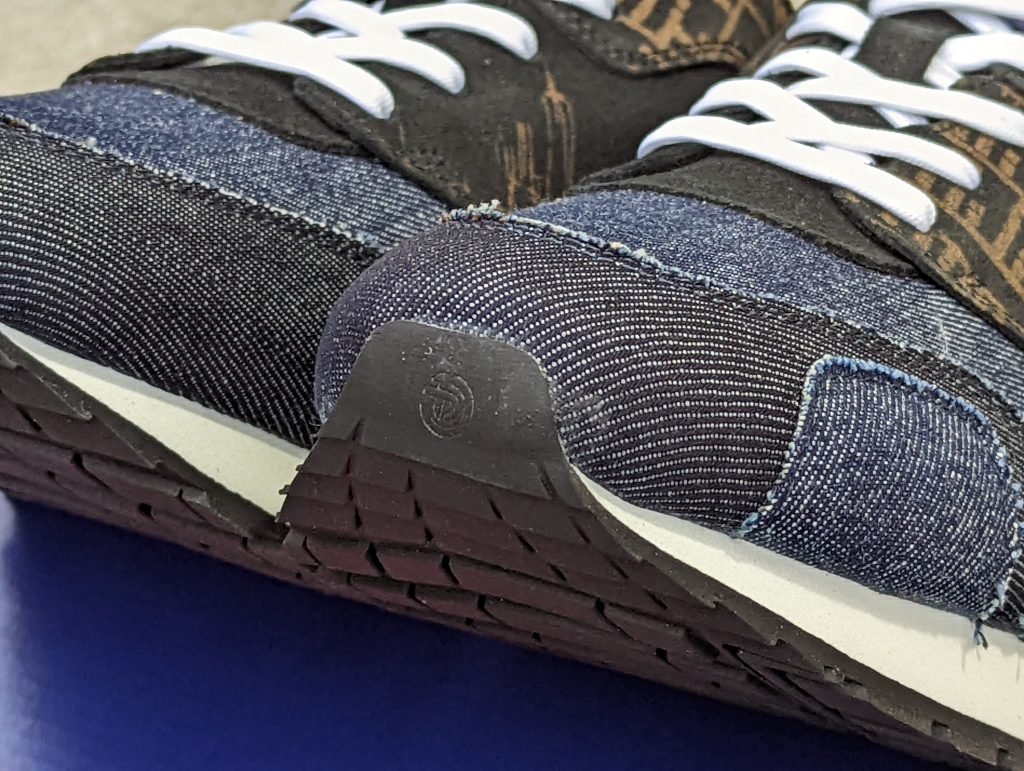 Following his move to Florence, Italy, Jamie began to draw up concepts that would ultimately become the brand's main model, the Gennaio, or "January" in Italian. He then created the logo and brought to life the very first CWs. "Once I'd designed the "Gennaio" and the 10.J logo, I sort of had an idea for some early projects. However, I hadn't quite made up my mind in regard to the creative direction until I had a lightbulb go off and put the "Sakura Season" together." The Sakura Season was 10.J's take on the symbolic staple within Japanese culture, the cherry blossom. Consisting only of drawings of a castle and a Sakura branch, this model didn't even feature the brand's logo yet. Nonetheless, its reception was positive and Jamie's creative output given a direction: "My love of all things history came in at that point, and from there I've put together all sorts of project ideas, some more wild than others of course, but after that it was pretty much "the cat's out of the bag" with my idea generation."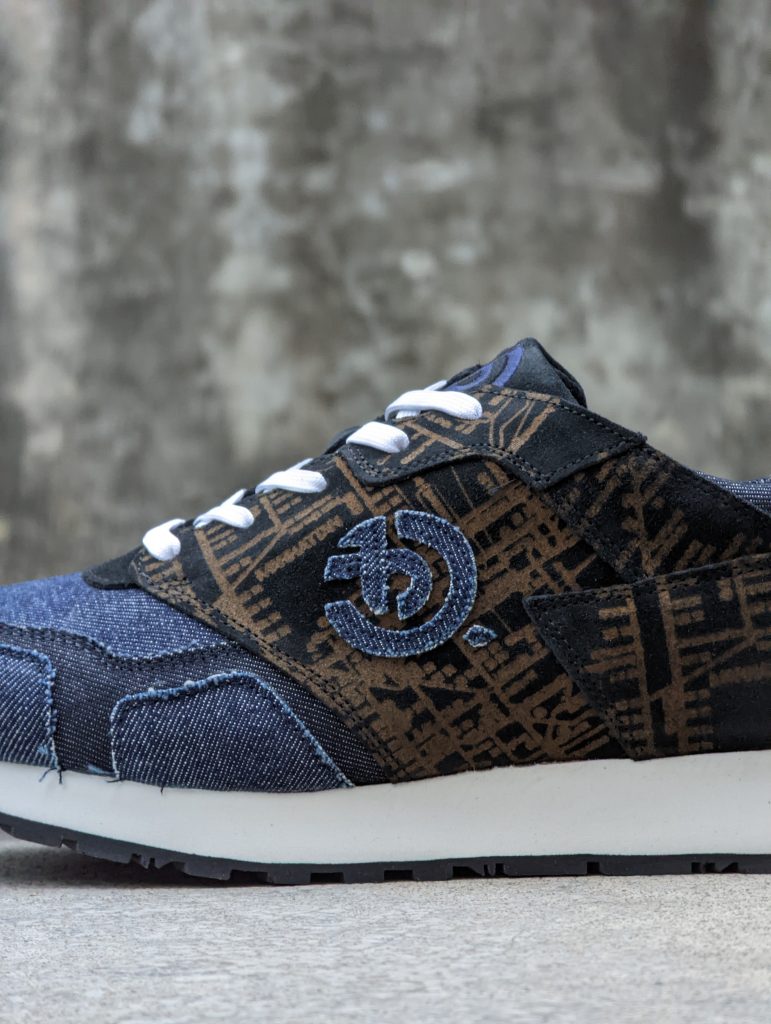 But things weren't always a smooth ride, as Jamie admits. See, despite being handmade by an experienced factory in Portugal, the first batch of Gennaio came in with a lopsided logo. However, rather than finding a shared solution to rework the 150 something pairs, the agents charged as intermediaries took the money and deceived both 10.J and the factory. Stuck with a batch of slightly flawed luxury sneakers, the company had to find a way to move forward: "In the end, we decided to call all of these samples, offering them as a sort of experiment in disguise as our first big release." Luckily the experiment was a success and 10.J embraced warmly by the sneaker community. Says Jamie, "we were so fortunate that the world didn't reject us, and in fact accepted what we were doing. It was truly a blessing!"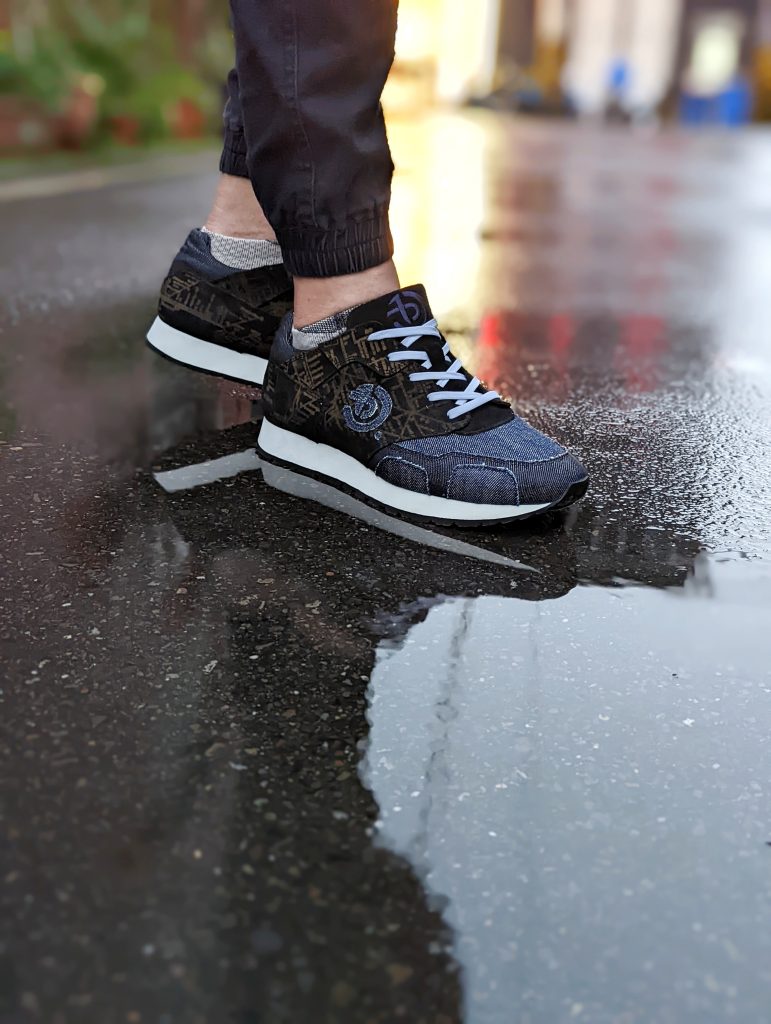 Although Jamie managed to steer the company into safer waters, the global pandemic put another damper onto 10.J's ambitions. Add to that more troubles with another agent, and one cannot help but wonder where Jamie derived his energy from to soldier on. But as he explains himself, creating shoes, telling a story through them and thereby sharing a connection with collectors makes it all worthwhile: "To have people connect with our models and colorways is the goal at the end of the day. I want the work to speak to them, to make them feel something, to evoke an emotion. With no explanation, I want them to feel what I felt when I created these shoes. Truly, there's a piece of my heart, and my love, in every one of the designs you see, and I only hope the world can feel that, because it's incredible. It's an energy unlike anything on this planet. And I love it!"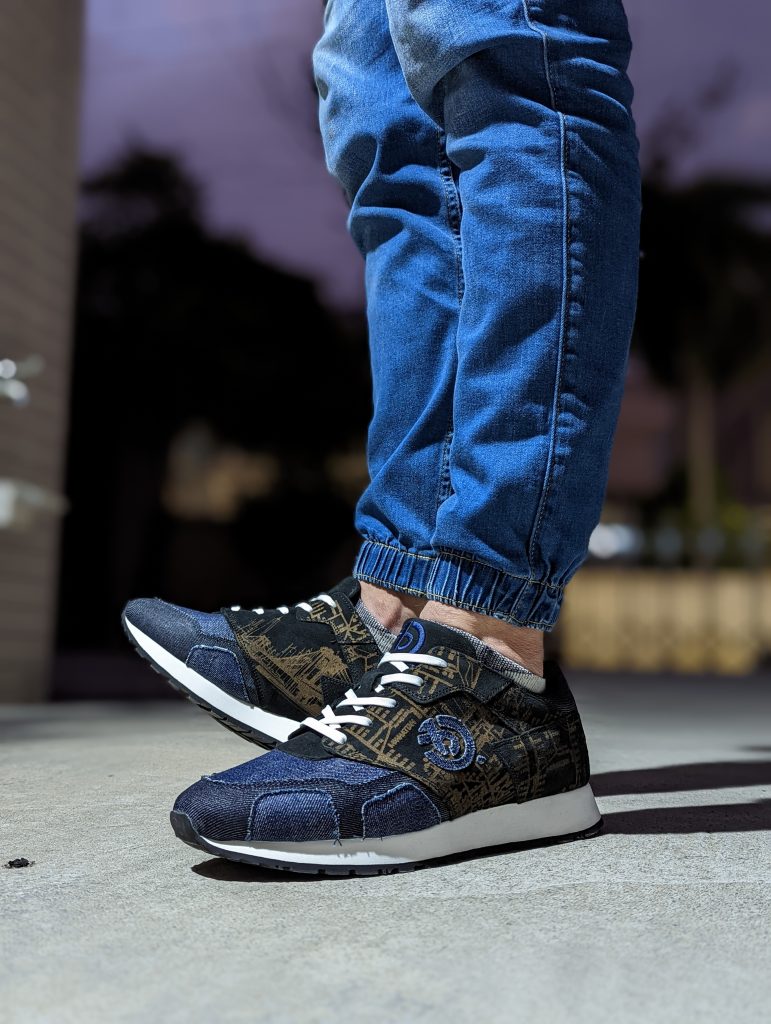 With so much positivity and optimism at work, it was only a matter of time before Jamie would gain support from like-minded people. Joining him now is Jerome on the artistic front, who in close collaboration with Jamie will make sure that each 10.J model can continue to be an outburst of creativity. On the business side of things, Mikey Dabbs will take on a handful of roles, the most important one being director of marketing. And this is right up Mikey's alley, as he's known for his tremendous prowess when it comes to giving upcoming brands a headstart in the game. Unsurprisingly, Mikey and Jamie clicked almost immediately following their introduction by a mutual friend. As Mikey remembers it, "Jamie and myself hit it off and had some great conversations, and that's really important to me. In fact, many projects I take on aren't really for money, but more to explore those possibilities. Once a clear vision is present it really helps to deliberate on its purpose and whether or not you align with it. Quite obviously, I felt that I could align with the identity of 10.J."
Together, the gang wants to see 10.J grow organically, all the while ensuring that it stays true to its original purpose of being for the culture. Asked about their strategy, Mikey explains that "the goal is to provide a path for those who truly love sneakers and extraordinary creations. Designers, color blocking, silhouettes, and themes all vary from one sneaker brand to the next, and we embrace that diversity. 10.J is positioned in this game as a brand for the purist, for the collector, for the enthusiast, for the person looking to call a brand theirs. The idea that anyone can have something special, something handcrafted that is also exclusive at this point is hard to come-by." Jamie agrees and adds that "we've invested our full faith in Mike, believing that he can work hand-in-hand with 10.J and it's network of resources to help grow the brand into something with wider reach!"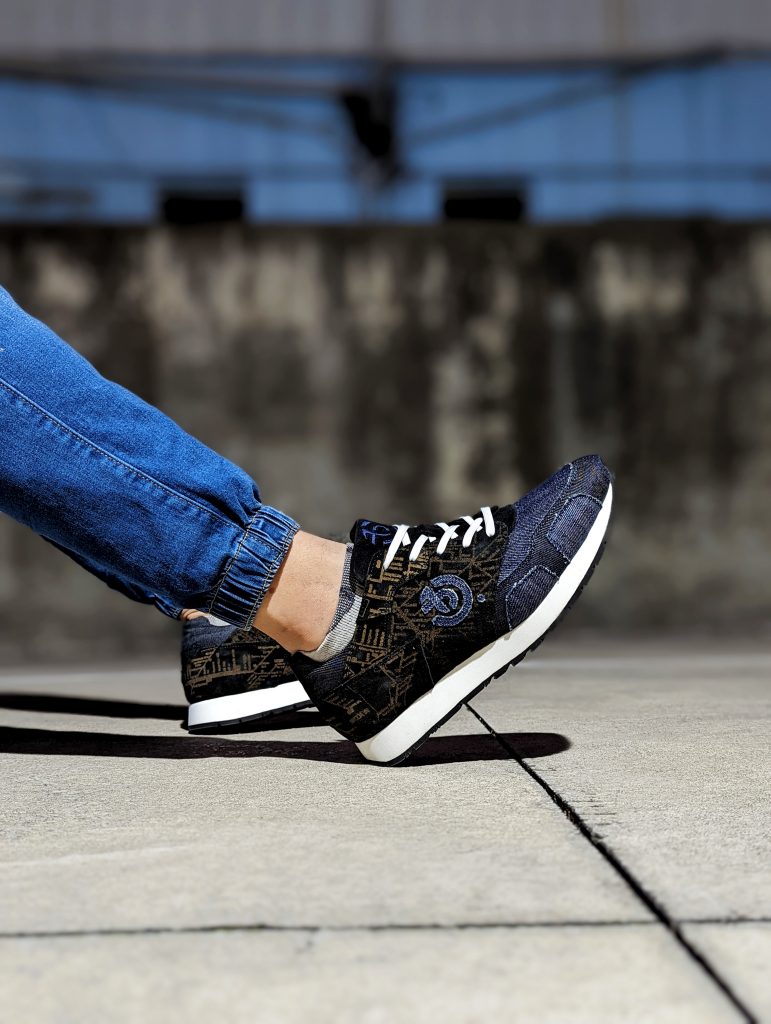 The first step to this is the Gennaio NYC. Although it is a team effort, Mikey points out that he opted to not add to the design itself, rather working his magic behind the scenes to gather sufficient attention leading up to the release. "With me being from NYC I obviously felt the urge to jump in with ideas. But I held back and let Jamie narrate his concept. Once he was finished, I realized it was already good right then, so I supported it through other means. He has his own connection to the heartbeat of NYC, as well as his own rhyme and reason when he talks about the city's artists and graffiti."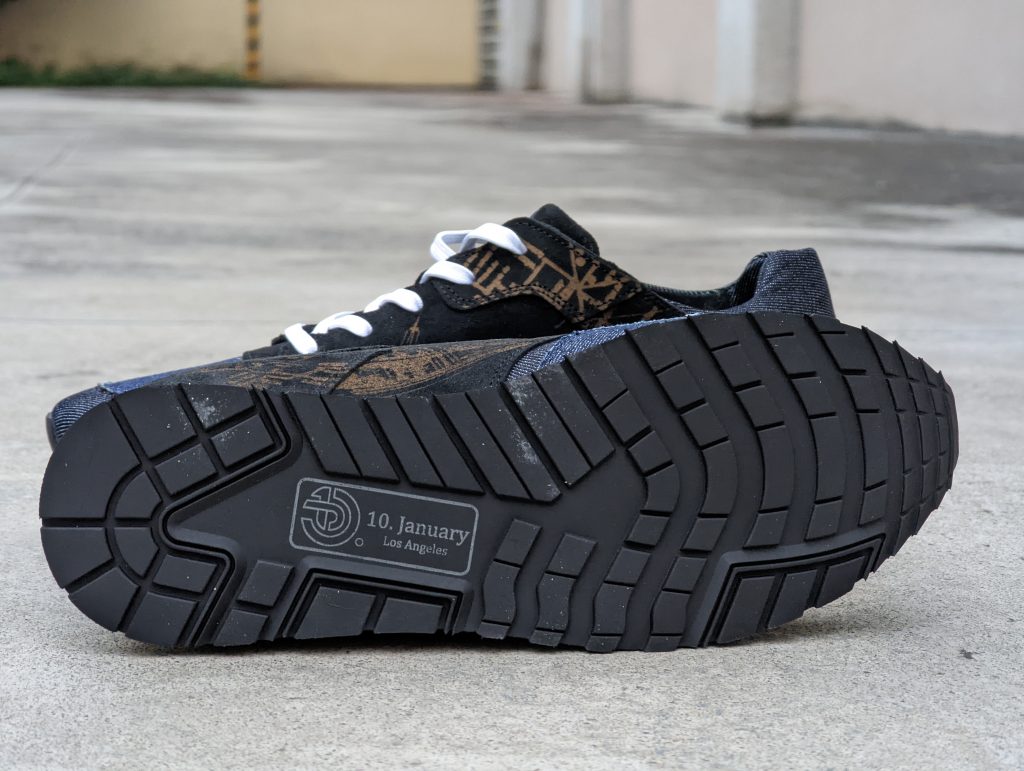 This imagining of NYC is equally sophisticated as it is raw. The shoe's upper, inlay and insole all feature depictions of New York's iconic subway grid. According to Mikey, "the various train lines are like the cardiovascular system of NYC. Traveling from one borough to the next depends on public transport for most folks, and you can enter a new realm once you get off the train. Different foods, cultures, and music – you can essentially travel the whole world in New York via its subway system."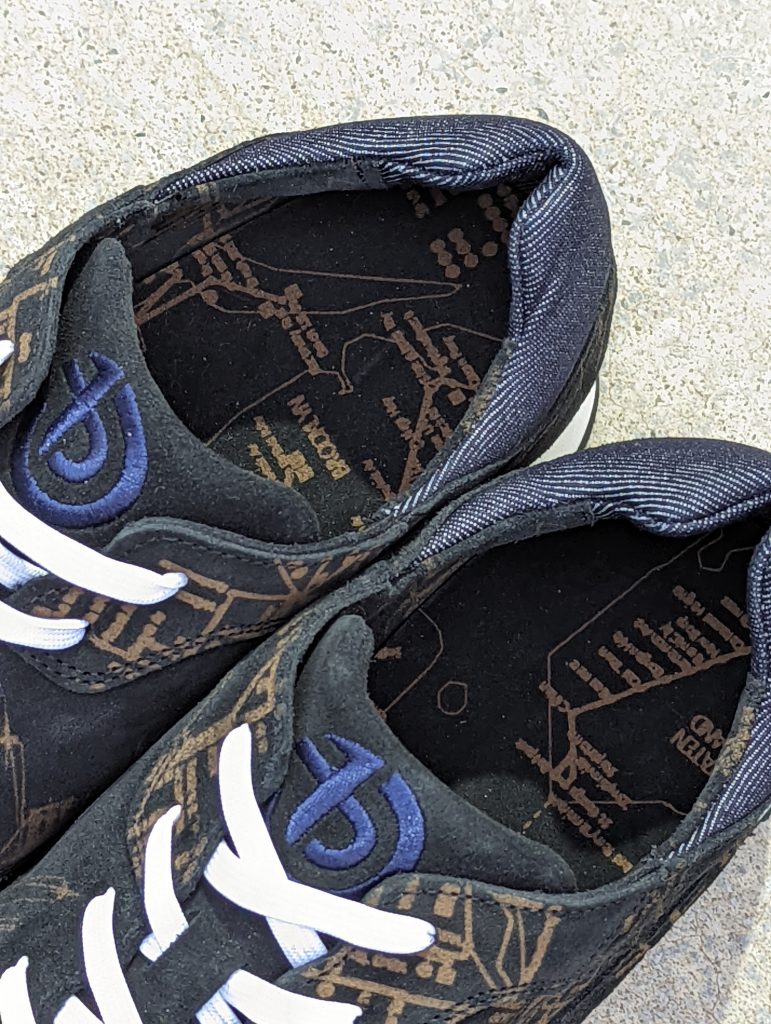 But visible flashpoints such as Staten Island and Brooklyn also remind us of the impact NYC HipHop has left on the world, and on Jamie in particular. As he explains in the accompanying press kit, "I grew up listening to the glory days of 90s rap: Biggie Smalls, … Big Pun, Big L, … Gangstarr, Wu-Tang Clan, these were my Hip-Hop Heroes coming up… While I was able to go to NYC many times as a young man coming up, it would ultimately be the music I was listening to that would be the definitive communicator of this culture…Everything about this place, and these people, was larger than life to me!" And this love is written in bold letters on these kicks. Be it Jerome's drawings of the Brooklyn bridge on the lateral sides, or the fact that each shoe features a distinct design pattern, all further enhance the broader vision 10.J seeks to present.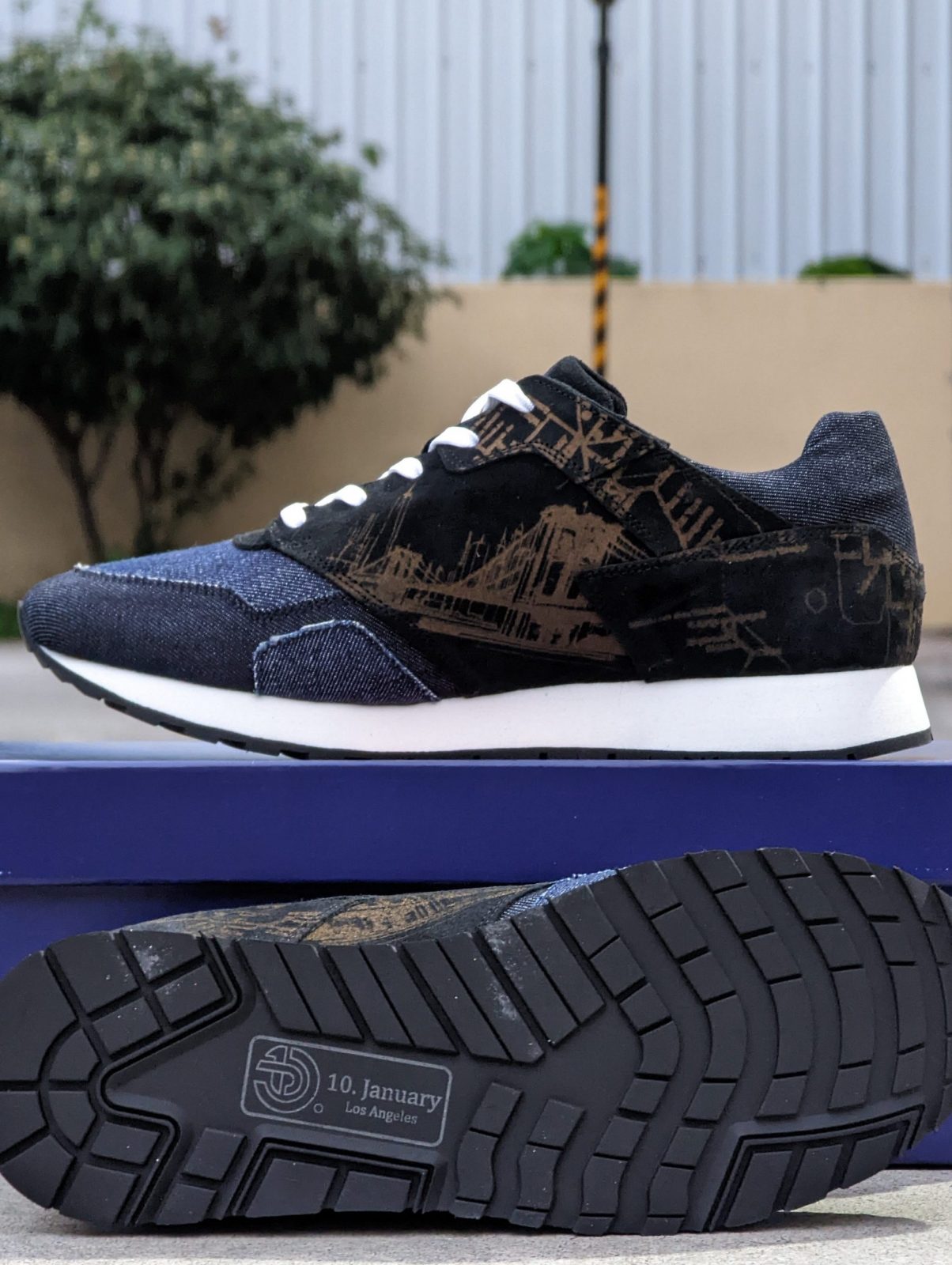 Finally, the unusual materials, manufacturing, as well as the model's fantastic silhouette only further add to this image. Made from Japanese raw denim and Italian calf suede, the Gennaio NYC exudes quality. At the same time, it manages to maintain a ruggedness that does not fear the nastier sides of the city you may encounter when you traverse it. As Jamie has it, even if you get them dirty, a brush and a bit of water should get that right off. Thanks to Portuguese craftsmanship, the Gennaio will also win over collectors through its meticulous manufacturing – stitches, seams, and gluing are virtually faultless. Add to that a shape to kill for, and the Gennaio NYC might just be 10.J stepping stone onto greater things!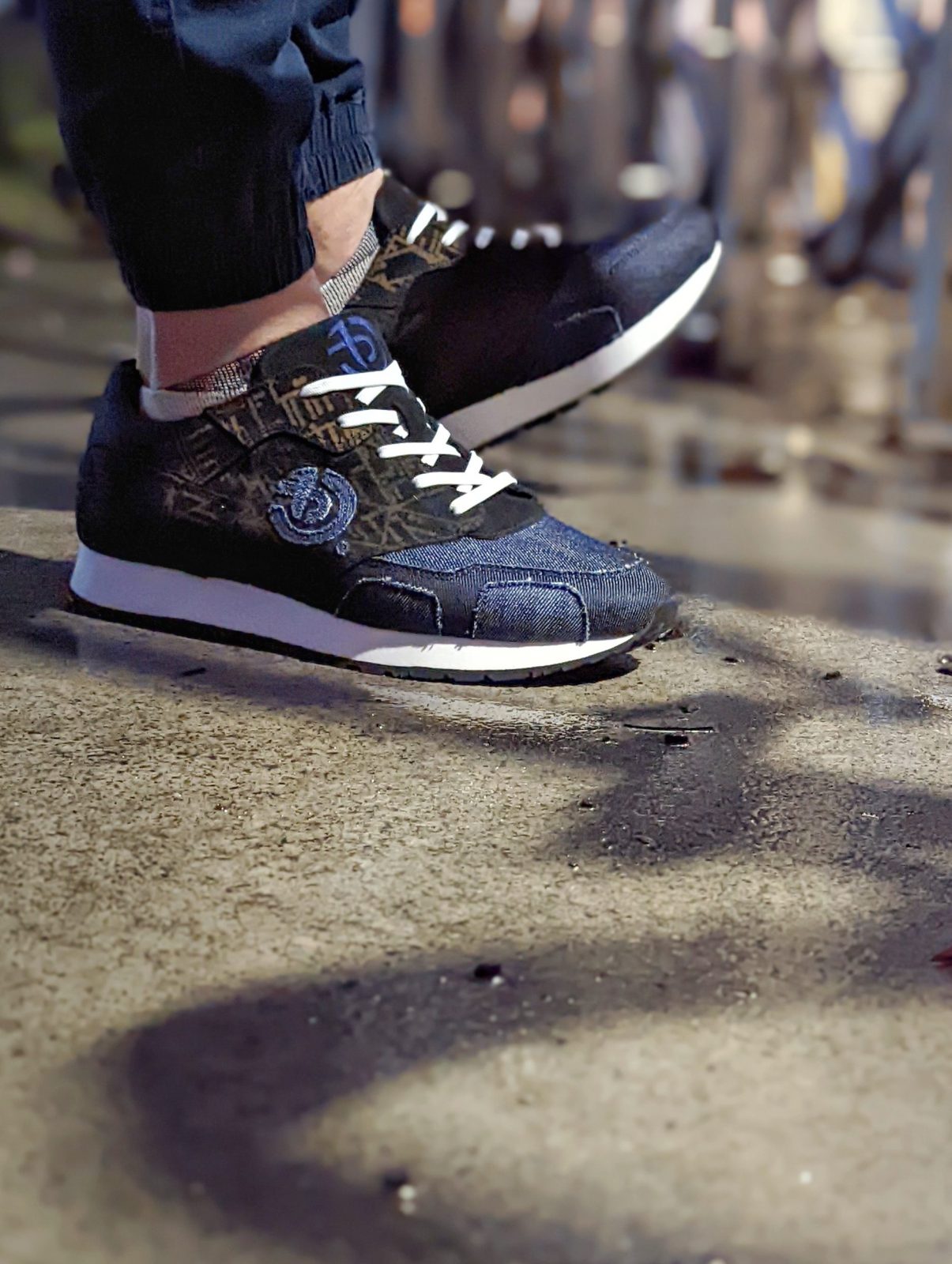 Written by Alex Kais, aka @armerschuster. Contact at armerschuster@gmail.com